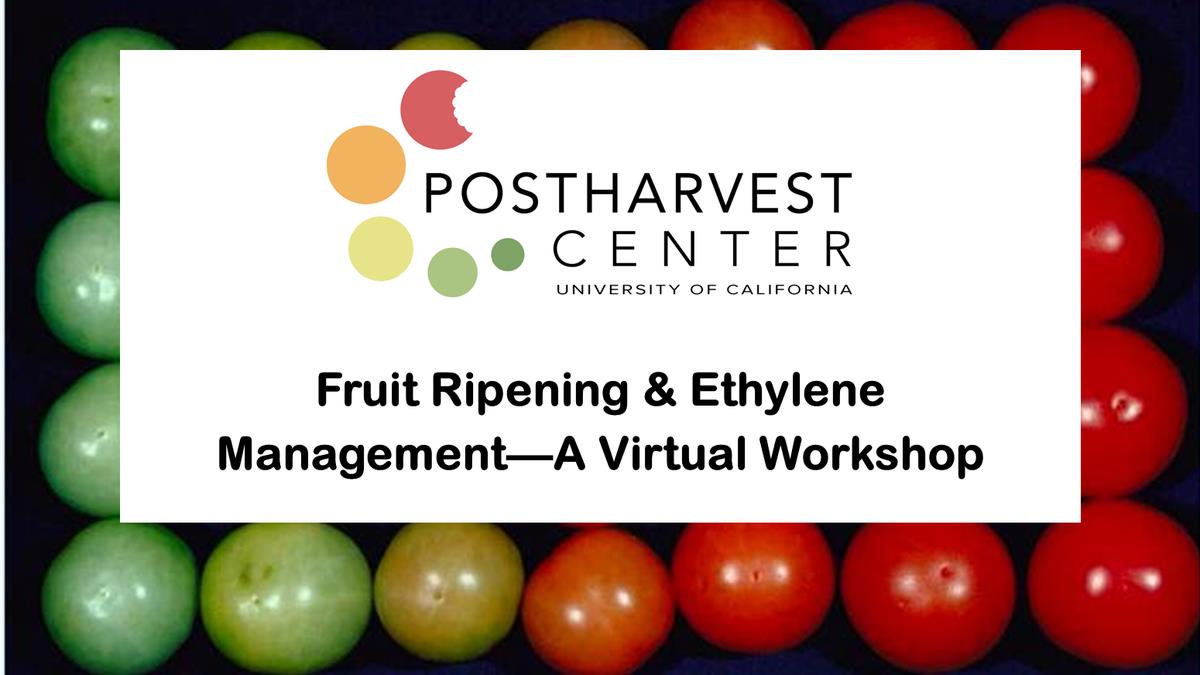 2021 Fruit Ripening & Ethylene Management--A Virtual Workshop
Format and Dates
Live Zoom Sessions Tuesdays and Thursdays 9-11:30am PDT, for 2 weeks starting April 13. In the week prior, participants will receive access to a set of pre-recorded presentations.
Study Week April 5; Live Sessions April 13 & 15
Study Week April 12; Live Sessions April 20 & 22
Sessions will be recorded if you are unable to participate at this time. They will be available for one week following the live session.

The interactive, virtual format will include pre-recorded video presentations, weekly live overview, highlights and Q&A sessions with instructors. Participants can submit questions during the study week and during the live sessions.
Full Registration: $600.00
Student and Developing Country Participant Registration: $200
If you feel you are eligible for this discount, please email Pam Devine at pwdevine@ucdavis.edu for more information.
The enrollment fee includes access to view pre-recorded videos of all topics and demonstrations, weekly live interactive Zoom meetings with instructors and PDF copies of all presentations.
If you are unable to pay by credit card, please contact Pam Devine at pwdevine@ucdavis.edu.
REFUND POLICY
For cancellation requests received via email on or before April 4, 2021: Reimbursement of registration fees paid less $50 USD administrative fee.
Registration substitution or transfers must be approved by class administrator and can be requested before April 4, 2021.
In the unlikely event that this program is canceled or postponed due to insufficient enrollments or unforeseen circumstances, the Postharvest Technology Center will fully refund registration fees.
For inquiries, contact Pam Devine at pwdevine@ucdavis.edu.
Link:
http://postharvest.ucdavis.edu/Workshops/Fruit_Ripening_-_Ethylene_Management_342/
Contact Information:
pwdevine@ucdavis.edu
Price Per Registration:
$600.00
Last day to register online:
Wednesday, April 7, 2021