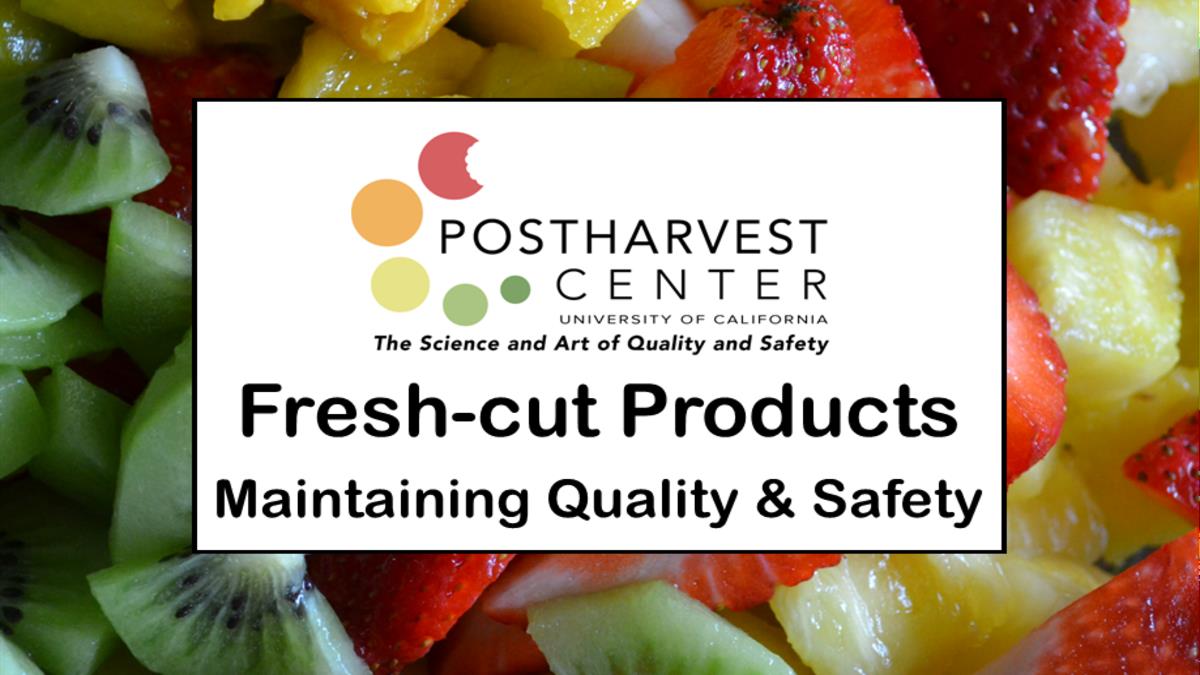 2022 Fresh-Cut Products: Maintaining Quality and Safety--A Hybrid Workshop
FORMAT AND DATES
Fresh-cut Products Workshop September 20-22, 2022 from 8:00 am-5:00 pm Pacific Daylight Time. In-person attendees will be provided morning and afternoon snacks and lunch each day. For all attendees, handouts will be available to download. For our virtual attendees, we will ask for questions to be submitted through Zoom, and will answer the most relevant during the live sessions. Others will be answered later on Zoom. Sessions will be recorded if you are unable to participate at this time.
Full Registration: $1500.00
Student Registration: $1250.000
Developing Country Participant Registration: $500 for virtual attendance only.
Student from Developing Country Participant Registration: $300 for virtual attendance only.
If you feel you are eligible for a student or developing country discount, please email Pam Devine at pwdevine@ucdavis.edu for more information.
Please note that if you are an international registrant, this form may not accept your Phone or Zip Code. If this is the case, please use 999-999-9999 for Phone and 99999 for Zip Code.
If you are unable to pay by credit card, please contact Pam Devine at pwdevine@ucdavis.edu.
REFUND POLICY
For cancellation requests received via email on or before September 12, 2022: Reimbursement of registration fees paid less $150 USD administrative fee.
Registration substitution or transfers must be approved by class administrator and can be requested before September 16, 2022.
In the unlikely event that this program is canceled or postponed due to insufficient enrollments or unforeseen circumstances, the Postharvest Technology Center will fully refund registration fees.
For inquiries, contact Pam Devine at pwdevine@ucdavis.edu.
IMAGE RELEASE
By registering for this workshop, I grant the UC Postharvest Technology Center (PTC) permission to capture or record my image, video, and audio footage from PTC sponsored events without payment, rights to royalties, or other compensation.
I understand that images and video footage will be edited, copied, and shared with an audience for educational, and/or promotional purposes and will not be accessible to the public or modified for commercial distribution.
Media captured may be used to support the development of PTC online learning curriculum, auxiliary PTC educational dissemination and PTC promotion.
Link:
http://postharvest.ucdavis.edu/Workshops/Fresh-cut_Products_Workshop__Maintaining_Quality_-_Safety/
Contact Information:
pwdevine@ucdavis.edu
Price Per Registration:
$1,500.00
Last day to register online:
Friday, September 16, 2022