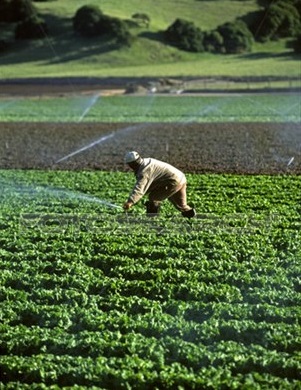 California Agriculture:
Water, Labor, and Immigration
This conference examines current issues in agriculture and farm labor.

California agriculture and the farm workforce are changing. Scarce water, expensive land, and changing consumer preferences have increased the importance of fruits and nuts, vegetables, and horticultural specialty or FVH crops in the state's farm sales. There are fewer newcomers to the farm workforce, prompting farm employers to take steps to satisfy current workers, stretch them with mechanical aids and substitute machines for hand workers, and supplement with H-2A guest workers.
Registration is required by Monday, April 11 to attend any portion of the conference. Attendance is free. Please note that seating is limited.

Click on the link at the bottom of this site to view/print the conference agenda. Papers presented, and a summary of the discussion for 2016, will be available after the conference at: https://gifford.ucdavis.edu. The summary report for 2015 can be found at: https://gifford.ucdavis.edu/en/events/past/2015-04-17.
We are grateful for the support of the UCD Ag Issues and Gifford Centers, the Giannini, Rosenberg, and WKF foundations, and the ALRB.
AGENDA
8:15AM Check-in and Continental Breakfast
8:45AM Welcome, Philip Martin, UC Davis and Colin Carter, UC Davis
9:00AM Water, Climate and California Agriculture
Chair: Dan Sumner, UC Davis
Louise Jackson, UC Davis
Paul Wenger, CA Farm Bureau Federation
Discussants: Dan Dooley, New Current Water, Dan Sumner, UC Davis
10:30AM Break
10:45AM Farm Labor in 2016
Chair: William Gould, ALRB
Farm production and employment changes, Philip Martin, UC Davis
Changing farm worker characteristics, Daniel Carroll, DOL
Discussants: Nathan Dorn, Food Origins, Muhammad Akhtar, EDD-LMID,
Don Villarejo, Davis
12:15PM Lunch
1:15PM Immigration Reform and Farm Workers
Chair: Kevin Johnson, UC-Davis
From IRCA to AgJOBS to H-2A, Philip Martin, UC Davis
DACA and DAPA Eligible Farm Workers, Ed Kissam, JBS
Discussants: Amagda Perez, UC Davis, Cynthia Rice, CLRA
2:45PM Break
3:00PM ALRB Issues in 2016
Chair: Genevieve Shiroma, ALRB
ALRB activities: Past, Present, and Future, William Gould, ALRB
Remedies for Unauthorized Workers, Kate Griffith, Cornell
Discussants: Martha West, UC-Davis; Tom Sobel, ALRB
4:30PM Adjourn
CONTACT
Philip Martin, plmartin@ucdavis.edu
LODGING
When contacting a local hotel, please request a university rate.
Aggie Inn, an Ascend Hotel - 245 First Street - Davis, CA 95616 / Phone: (530) 756-0352
Best Western Plus Palm Court Hotel - 234 D Street - Davis, CA 95616 / Phone: (855) 238-1589
Best Western University Lodge - 123 B Street - Davis, CA, 95616 / Phone: (530) 756-7890
Hyatt Place Hotel - 173 Old Davis Road Extension - Davis, CA, 95616 / Phone: (530) 756-9500
Additional Lodging Options - http://visityolo.com/stay/stay-davis
Link:
Date of Event:
Apr 15, 2016
Time of Event:
8:15AM - 4:30PM
Location:
Kalmanovitz Appellate Courtroom, UC Davis Law School
Price Per FREE REGISTRATION:
$0.00
Last day to register online:
Thursday, April 14, 2016
UC Davis Law School
Kalmanovitz Appellate Courtroom, UC Davis Law School
South Entry Parking
South Entry Parking - Cost is $9.00
Aggie Inn, an Ascend Hotel
245 First Street - Davis, CA 95616 / Phone: (530) 756-0352
Best Western Plus Palm Court Hotel
234 D Street - Davis, CA 95616 / Phone: (855) 238-1589
Best Western University Lodge
123 B Street - Davis, CA, 95616 / Phone: +1 (530) 756-7890
Hyatt Place Hotel
173 Old Davis Road Extension - Davis, CA, 95616 / Phone: +1 (530) 756-9500