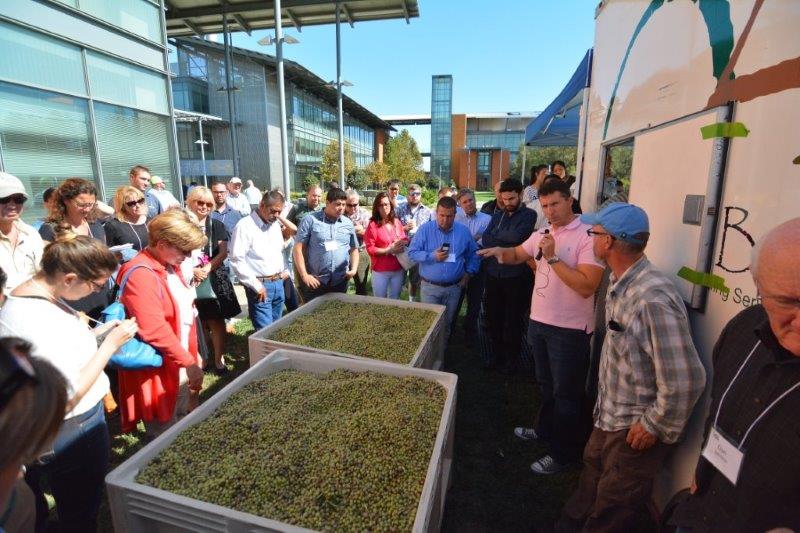 Master Milling Certificate Course
This year's Master Milling Certificate Course will be held from 09/20/2016 to 09/23/2016.
The Master Milling Certificate Course has helped hundreds of olive oil processors produce better oil more efficiently. A survey of last year's attendees found that 90 percent of respondents believed that the course material would boost their quality or efficiency by more than five percent, and 72 percent said that the course was "very likely" to lead to higher profitability.
The course will be led by Leandro Ravetti, among the world's top experts in olive oil processing, growing, and standards. As executive director of Australia's Boundary Bend Limited, Leandro has helped guide the company to rapid growth, optimum efficiency, and top awards at international olive oil competitions. The company's success is guided by innovation, data, and analysis to maximize oil production efficiency and quality.
The course will include a field trip to three olive oil processors in Yolo County, including to Boundary Bend's new U.S. facility in nearby Woodland. Olive oil will be processed on site at UC Davis by Olive2Bottle Mobile Services.
This course is a small investment that will pay off in more efficiency, better quality, and higher profits.
What's included
• Four days of expert instruction, see photos from last year!
• Field-trip transportation.
• Breakfast pastries, lunch, and beverages featuring local and seasonal ingredients from one of the region's best caterers.
• Booklet with presentation slides in note-taking format.
• Flash drive with presentation slides and supplemental materials.
Reviews
"Overall I found the course to be absolutely wonderful. All of the presenters were knowledgeable, shared information freely and were good presenters. Leandro was especially fantastic. His knowledge on the subject matter is staggering and he is a pleasure to listen to."
"Great course! I really liked the detailed look from start to finish in the processing. I also liked the hands-on look at the processing and the first-hand view of different processors during the field trip. This trip was invaluable to me - I learned so much!"
"This was a wonderful experience, our minds are full of new ideas, tips to apply, errors not to make!"
"One value of the course is the peer-to-peer networking!"
Registration
The four-day course will be held on the UC Davis campus in the Silverado Vineyard Sensory Theater at the Robert Mondavi Institute for Wine and Food Science.
$1,025 until August 1, 2016
$1,275 after August 1, 2016
Cancellations: 100% credit for future course if cancelled prior to July 1, 2015; 50% credit if cancelled prior to August 1, 2016; no credit after August 1, 2016.
- Master Milling Certificate Course (09/20/16 – 09/23/16):
Hyatt Place UC Davis:
Room Block Period: 09/19/16 - 09/23/16
Group Name: Master Milling Certificate Course 2016
Address: 173 Old Davis Rd, Davis, CA 95616
Reservation: (530) 756-9500
Hallmark Inn at UC Davis:
Room Block Period: 09/19/16 - 09/24/16
Group Name: 2016 Master Milling Certificate Course
Address: 110 F St, Davis, CA 95616
Reservation: (530) 753-3600
Instructors
Leandro Ravetti graduated as an Agricultural Engineer in Argentina, where he worked for the National Institute of Agricultural Technology in olive production research and advised many of the country's largest olive developments from 1995 until he moved to Australia in 2001. In Australia, Leandro leads the Modern Olives technical team, which provides horticultural and olive specific technical advice to most of the largest olive groves and olive oil processing plants in the country. These companies have planted nearly 3,500,000 trees, representing approximately 60 percent of the Australian olive industry by production. Leandro has been Executive Director of Boundary Bend Limited, Australia's leading fully integrated olive company, since 2005 and alternate director of the Australian Olive Association since 2009.
Dan Flynn is executive director of the UC Davis Olive Center, which he has guided to international leadership in olive research and education. Dan also oversees the production of UC Davis Olive Oil and other olive products that help support the center. He served 16 years as a legislative and policy consultant in the California State Legislature and also managed a small farm prior to coming to UC Davis. He has a M.A. in Political Science from Rutgers University. Based on his achievements with the Olive Center, Dan has received top staff awards from College of Agricultural and Environmental Sciences and Chancellor Linda Katehi.
Selina Wang, PhD, is the research director of the UC Davis Olive Center, where she develops and manages a wide range of projects in olive oil quality and authenticity. Dr. Wang also is the leader of the UC Davis Olive Oil Laboratory, which provides research and analysis of olive oil and table olives. She has a PhD in Organic Chemistry from UC Davis. She oversaw the Olive Center's 2010 and 2011 studies evaluating the quality of extra virgin olive oil in supermarkets, which received worldwide attention. As research director, Dr. Wang has developed more than 50 research projects in table olives and olive oil. With UC Davis faculty she led a student team that developed a rapid bio-sensor for olive oil rancidity, winning the 2014 Grand Prize in a competition with 242 teams from around the world. Dr. Wang is pursuing additional innovative research that seeks to deliver faster, better and cheaper methods for analyzing olive oil quality and authenticity.
Date of Event:
Sep 20, 2016
Location:
Robert Modavi Institute Silverado Sensory Theater
Price Per Ticket:
$1,275.00
Last day to register online:
Wednesday, September 14, 2016
Silverado Sensory Theater
Parking is available for 9.00 per day on Hilgard Lane