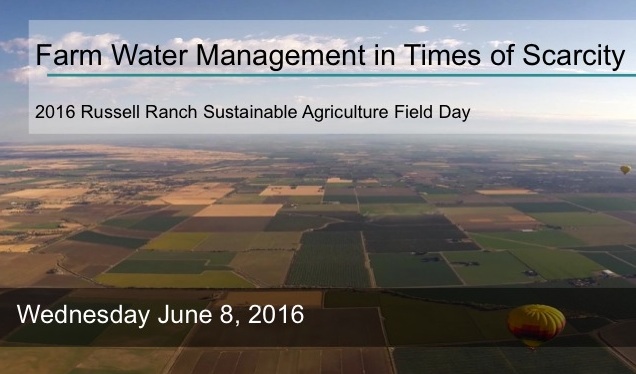 Russell Ranch Sustainable Agriculture Field Day: Farm Water Management in Times of Scarcity
The Russell Ranch Field Day brings together farmers, students, members of NGOs and government, researchers and extension, and the private sector to exchange information and ideas relevant to sustainable agriculture. We will present research results on tools and strategies to use water efficiently and maximize soil resources to conserve water. Also we will share new technologies for monitoring soils, plants, and water status and flow to identify optimum irrigation strategies.
General registration is $10, students are $5 and farmers are free. Email Dianne Stassi (dstassi@ucdavis.edu) for a coupon code if you are a farmer or student. Continuing education credits may be available for CCA advisors for attending (to be determined).
AGENDA
Farm Water Management in Times of Scarcity
BARN REGISTRATION AND INTRODUCTIONS
8:00-8:20: Registration
8:20-8:25 Welcome
8:30-8:40 TRANSIT NOTE HAY WAGONS WILL LEAVE PROMPTLY AT 8:30AM!!!
STOP 1: Groundwater well pump
8:40-8:52 Olivier Jerphagnon: Energy-water nexus in irrigation management
8:52-9:04 Stan Knutson: Water measurement smart energy meters -- pump with variable frequency driver
9:04-9:16 Teresa Carillo-Cobo: Approaches for irrigation optimization of annual row and perennial crops
9:20-9-30 TRANSIT
STOP 2: Century Experiment plots
9:30-9:42 Amelie Gaudin : Managing irrigation for multiple goals in organic systems:integrating productivity with soil health.
9:42-9:54 Martin Burger: Irrigation management and water source shift greenhouse gas balance
9:54-10:06 Mark Lundy: Managing Corn under California's Drought Conditions
10:10-10:20 TRANSIT
STOP 3: Front fields
10:20-10:32 Dan Putnam: Adaptation of Subsurface Drip Irrigation in Alfalfa to improve Water Productivity (Pros and Cons)
10:32-10:44 Daniele Zaccaria: Impact of Drip tape Spacing Influences on Yield, Water Use in Alfalfa
10:44-10:56 Tim Hartz: Deficit irrigation of processing tomatoes
11:00-11:10 TRANSIT
BARN PRESENTATIONS
11:15-11:25 Toby O'Geen: Exploring the potential to increase groundwater recharge in agricultural soil landscapes.
11:25-11:35 Graham Fogg: Irrigating to Grow Groundwater
11:35-11:45 Darren Drewry: Remote Sensing for Monitoring Vegetation Water Status
LUNCH 11:45-12:15
POSTERS
Daoyuan Wang and Deirdre Griffin: Biochar impacts on corn and tomato production
Justin Muncaster: Growth curves using tree-level processing of multispectral images
Teresa Carillo-Cobo : Water use efficiency of sub-drip irrigation vs. furrow irrigation of tomatoes
Laura Emberson and Lucas Silva: Spectral analysis of water status of vegetation
VENDORS
Exhibition of commercial products for irrigation: several companies
GROWERS PANEL 12:30-1:15
Theme Water Management on Farm: Challenges and Opportunities
Farmers: John Meek, two others to be confirmed
Moderator: Amrith Gunasekara, CDFA
1:30 Evaluations and adjourn
Contact Kate Scow kmscow@ucdavis.edu with questions about the field day.
---------
UC Davis is committed to making its programs accessible to persons with disabilities. If you need an accommodation to participate in this event because of a disability, please contact Daoyuan Wang at least one week prior to the program with information regarding the requested accommodation.
Date of Event:
Jun 08, 2016
Time of Event:
8 AM - 1:30 PM
Last day to register online:
Monday, June 6, 2016