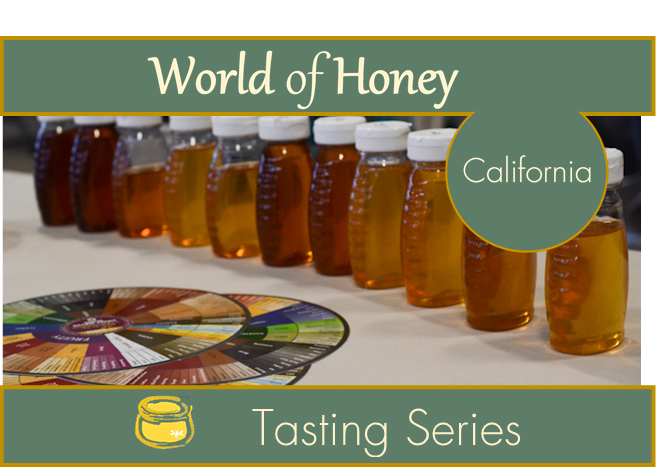 2016 World of Honey - Honey Tasting (California)
Featured honeys are hard-to-find almond, savory coriander, fruity pomegranate and our ever-changing Northern California Wildflower. Each honey will be paired with its produce: almonds, cilantro and pomegranate seeds. As a special treat, the wildflower will be combined with a creamy cheese so participants can discover how honeys change with different foods.
California State Apiculturist, Elina Nino, will deliver a short talk on the state of the bees in California and the country with a focus on the almond pollination season.
Date: Thursday, October 20, 2016
Location: Sensory Theater, Robert Mondavi Institute
Fee:
$30 (General)
$25 (UCD Affiliates) Please use coupon code YDEBOQPKLA
$12.50 (Students-Valid Student ID required at registration) Please use coupon code TZRUABQLOD
Purchase all three courses for a discounted rate of $75 (General) and $65 (UCD Affiliates)
Register here: https://registration.ucdavis.edu/Item/Details/258
Presenters:
Amina Harris, Director, Honey & Pollination Center, Robert Mondavi Institute, UC Davis
Amina Harris is the director of the Honey and Pollination Center at the Robert Mondavi Institute of Wine and Food Science, UC Davis. In addition, Harris is the owner of Z Specialty Food, LLC with her husband and son. Moon Shine Trading Company, a division of Z Specialty, has been offering unique American varietal honeys for over 30 years and has won awards from the National Association for the Specialty Food Trade (NASFT) and the National Honey Board. Additionally, Harris served on the board of directors of the NASFT for six years and was the NASFT Winter and Spring Show committee chair for many years.
Elina Niño, Apiculture Extension and Research, Department of Entomology and Nematology
Niño researches the reproductive processes involved in queen bee mating. As Extension Apiculturist, Niño will be developing the recently funded Master Beekeeping Initiative here at UC Davis. She was a USDA-NIFA-AFRI Postdoctoral Fellow at Pennsylvania State University and expanded her program to study the socioeconomic factors affecting the success of local queen breeding programs and functional and evolutionary genomics. A member of the Entomological Society of America, she received numerous honors as a graduate student. Niño received her PhD from Pennsylvania State University.
Date of Event:
Oct 20, 2016
Location:
Sensory Building, Robert Mondavi Institute
Last day to register online:
Thursday, October 20, 2016