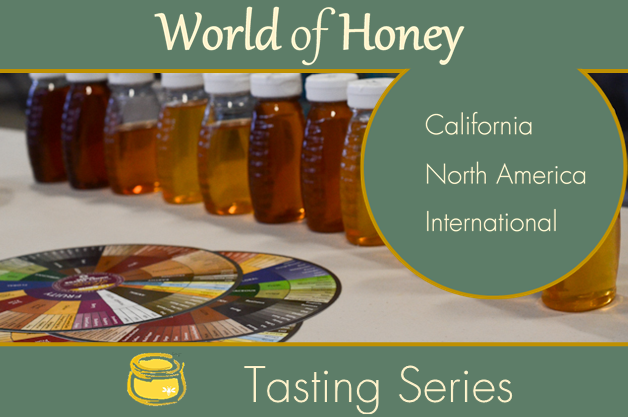 World of Honey - Three Course Package
Purchase all three 2016-2017 World of Honey courses for a discount!
Three Course Package Fee:
$75 (General)
$65 (UCD Affiliates) Please use coupon code: OTTZGKISRF
Location: Sensory Theater, Robert Mondavi Institute
Each individual tasting is $30 (General), $25 (UCD Affiliates), and $12.50 (Students).
Tasting Dates:
California Honey Tasting

Date: Thursday, October 20, 2016
Time: 6:30PM - 8:30PM
Instructors: Amina Harris, Elina Nino
Northern California Honey Tasting
Date: Wednesday, February 1, 2017
Time: 6:30PM - 8:30PM
Instructors: Amina Harris, Neal Williams
International Honey Tasting
Date: Thursday, October 20, 2016
Time: 6:30PM - 8:30PM
Instructors: Amina Harris, Robbin Thorp
Presenters
Amina Harris,
Director, Honey & Pollination Center, Robert Mondavi Institute, UC Davis
Amina Harris is the Director of the Honey and Pollination Center at the Robert Mondavi Institute of Wine and Food Science, UC Davis. In addition, Amina is the owner of Z Specialty Food, LLC with her husband and son. Moon Shine Trading Company, a division of Z Specialty, has been offering unique American varietal honeys for over thirty years winning national awards from the Specialty Food Association and the National Honey Board.The Honey and Pollination Center showcases the importance of both honey and pollination to the wellbeing of consumers through education and research through its vision: to help make UC Davis the world's leading authority on honey bee health, pollination and honey quality. Projects of the Center include the development of a Honey Tasting and Aroma Wheel and creation of a Master Beekeeping Program. An inaugural Bee Symposium was held in the Spring, 2015 in order to help educate beekeepers, gardeners, and students in present day research.
Elina Niño, Apiculture Extension and Research, Department of Entomology and Nematology
Niño researches the reproductive processes involved in queen bee mating. As Extension Apiculturist, Niño will be developing the recently funded Master Beekeeping Initiative here at UC Davis. She was a USDA-NIFA-AFRI Postdoctoral Fellow at Pennsylvania State University and expanded her program to study the socioeconomic factors affecting the success of local queen breeding programs and functional and evolutionary genomics. A member of the Entomological Society of America, she received numerous honors as a graduate student. Niño received her PhD from Pennsylvania State University.
Neal Williams, Associate Proessor, Department of Entomology and Nematology, UC Davis
Williams is an evolutionary ecologist whose research ranges from basic bee and pollination biology to conservation biology and agricultural pollination. He am deeply interested in the interactions of flower visitors and the floral hosts which they often pollinate. He explores questions about pollinators, flowering plants and pollination from a variety of perspectives and at different scales from the foraging of individual bees, to the persistence of their populations, to the stability and dynamics of their communities in space and time.
Robbin Thorp, Distinguished Professor Emeritus, Department of Entomology and Nematology, UC Davis
Native pollinator specialist Robbin Thorp is a distinguished professor emeritus of entomology at the University of California, Davis. He is globally recognized for his expertise in bumblebees. He continues to conduct research on pollination biology and ecology, systematics, biodiversity, and conservation of bees, with interest in native bees of the vernal pool ecosystem. Thorp is the co-author of Bumble Bees of California: An Identification Guide (2014, Princeton University Press) and California Bees and Blooms: A Guide for Gardeners and Naturalists (2014, Heyday Books).
Date of Event:
Oct 20, 2016
Location:
Sensory Building, Robert Mondavi Institute
Last day to register online:
Monday, October 17, 2016