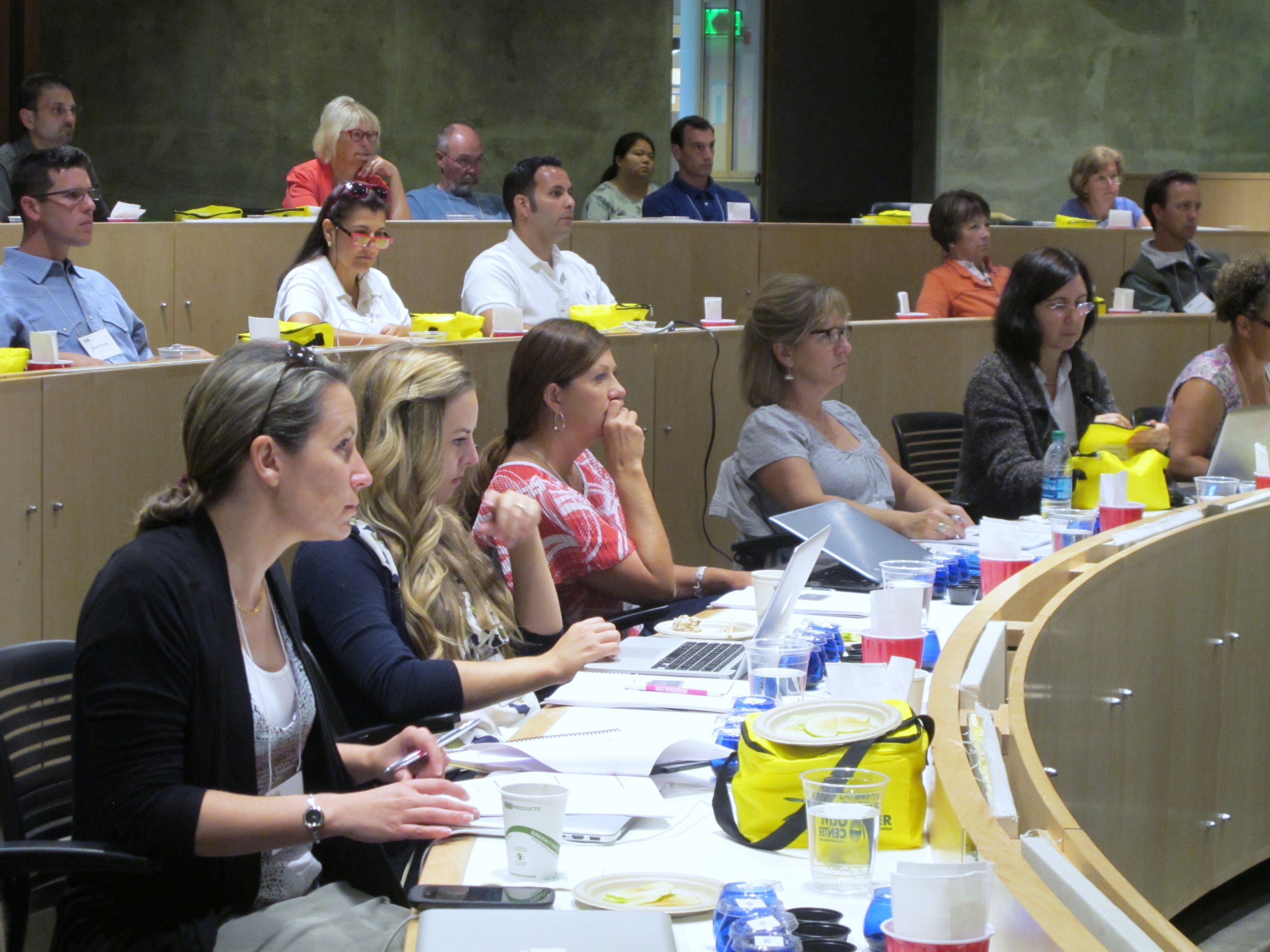 Olive Oil Sensory Evaluation Certificate Course
Olive Oil Sensory Evaluation Certificate Course Jan 20 and 21, 2018

Kick off 2018 with world-class training from the independent experts at UC Davis. As part of its continuing efforts to advance quality, Veronica Foods is collaborating with the UC Davis Olive Center to provide a certificate course tailored to the needs of stores contracting with Veronica Foods.
The course will help you understand the wide variability in olive oil quality and provide you with the best available guidance for customers:
- Evaluate dozens of olive oils guided by a sensory scientist with decades of industry experience
- Learn to recognize positive and negative descriptors
- See how Veronica Foods oils compare to other oils in the marketplace
- Get the facts on cooking, health benefits and phenols
- Learn how to read chemistry results guided by the top olive oil chemist in the US
- Explore the unique characteristics of flavored olive oils
- Understand how harvest, processing and storage variables affect sensory quality
- Establish the ideal conditions for keeping tasting skills sharp year round
- Receive a certificate of completion suitable for framing
Attendees receive a booklet with presentations, the Olive Oil Defects Wheel, a flash drive with presentations and supplemental materials, extra samples for later tasting, morning pastries, coffee, tea, lunch and break-time snacks.
At the end of the first day enjoy a reception with light refreshments, beer, wine and soft drinks sponsored by Veronica Foods!
Veronica Foods stores from all over the country, along with other attendees have raved about the Olive Center's sensory courses: "Passionate… knowledgeable…down to earth… hands on… great program…well organized…outstanding!"
When: January 20 and 21, 2018; 8 AM – 4:30 PM
Where: UC Davis in the beautiful Silverado Vineyard Sensory Theater at the Robert Mondavi Institute for Wine and Food Science.
Cost: $545 (by November 15, 2017), $645 (after November 15, 2017)
International registration: please use (555)555-5555 for phone number and 392 Old Davis Rd, Davis, CA 95616 for address to sign up.
Cancellations: 50% credit if cancelled prior to November 15, 2017; no credit after November 15, 2017.
Instructors:
Sue Langstaff is the owner of Applied Sensory, providing sensory training to wine, beer and olive oil producers. She has led an olive oil sensory panel since 2012. She has served as head judge at competitions in South Africa and New Zealand, and is a judge at the Los Angeles International Olive Oil Competition. Sue is co-editor of the definitive textbook Olive Oil Sensory Science (Wiley/ Blackwell, 2014) and is the creator of The Defects Wheel for Olive Oil™. Author Mary Roach wrote a profile of Sue in the bestseller Gulp: Adventures on the Alimentary Canal (W. W. Norton and Co., 2013). Sue has a M.S. from UC Davis where she studied Sensory Science, Enology and Brewing.
Dan Flynn has guided the UC Davis Olive Center to international leadership in olive research and education since the center's establishment in 2008. Previously he served 16 years as a legislative and policy consultant in the California State Legislature and later managed a small farm. Dan has received top staff awards from the university and has carried the center's mission to media worldwide. He has a M.A. in Political Science from Rutgers University.
Selina Wang, PhD, has conducted research for the UC Davis Olive Center since 2009 and has been research director since 2011. She has distinguished herself as the leading olive oil chemist in North America. Selina oversaw the Olive Center's
2010-2012 reports on the quality of extra virgin olive oil sold at retail and wholesale outlets, which provided the foundation for a federal investigation, revised trade protocols, and California's strict quality standards. With her lab group and collaborations across campus, Selina has helped the UC Davis Olive Center deliver more than one hundred research projects. She also serves as an adjunct professor in the Department of Food Science and Technology. Selina has a PhD in Chemistry from UC Davis.
Hotel Reservation
Hyatt Place UC Davis
Address: 173 Old Davis Rd, Davis, CA 95616
Phone: (530) 756-9500
- Booking link: https://ucdavis.place.hyatt.com/en/hotel/home.html?corp_id=G-OOEV
- Select Arrival date: 1/19/2018; Departure date: 1/21/2018.
- Guests can also call Hyatt and mention group block name "Olive Oil Evaluation" to make reservations.
Hallmark Inn at UC Davis
Address: 110 F St, Davis, CA 95616
Phone: (530) 753-3600
- Room block period: 1/19/2018 to 1/21/2018.
- Guests need to call and mention the event name "Olive Oil Sensory Evaluation Certificate Course" to make reservations.
Link:
Date of Event:
Jan 20, 2018
Time of Event:
8:00am-4:30pm
Location:
Silverado Vineyards Sensory Theater
Price Per Ticket:
$645.00
Last day to register online:
Thursday, January 18, 2018
Robert Mondavi Institute Sensory Building