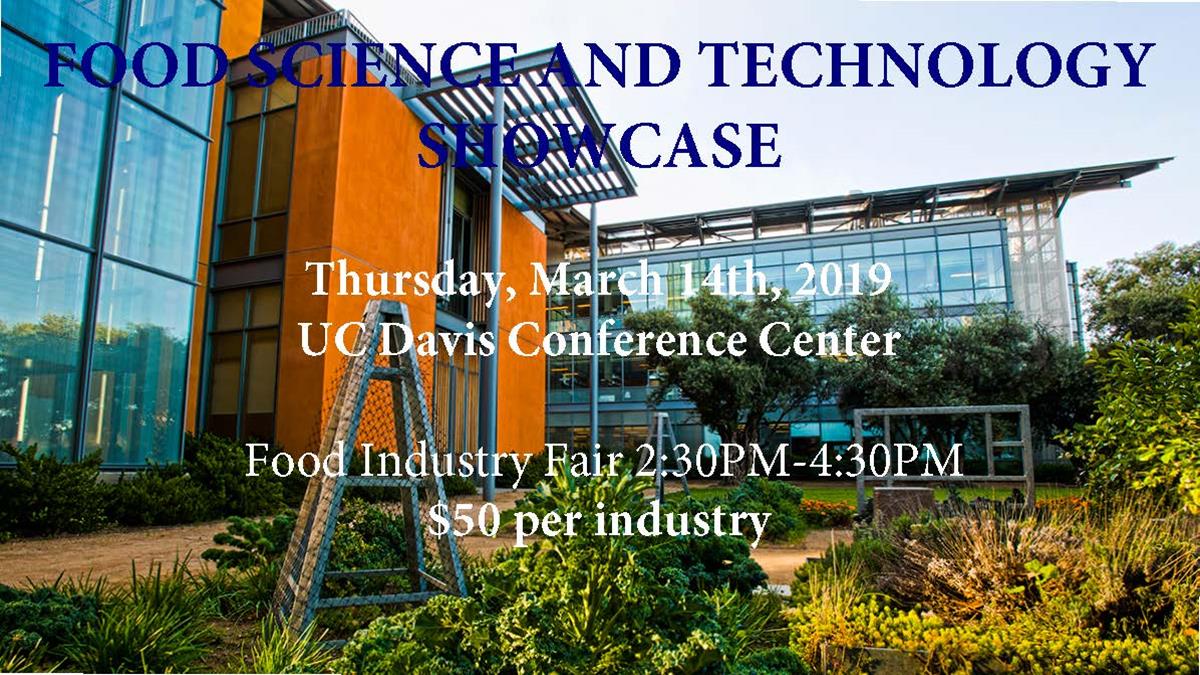 Food Science Showcase 2019 - Food Industry Fair
Represent your company during our Food Industry Fair!

Showcase your company to other professionals and current UC Davis Food Science and Technology students during this two-hour networking event!
Registration includes a table, two chairs, and a table covering.* Limited space available so register now!

Participants are encouraged to also attend the Research Poster Presentation and NCIFT Annual Meeting and Student Recognition Banquet. Please see more information below!
*This registration page is only for company representatives wishing to reserve a table. Students wishing to participate should check the UC Davis emails for more details on registering.

Do you want to help UC Davis Food Science students attend the Student Recognition Banquet? Do you want your company recognized at the Banquet? Learn about the benefits of donating to the Food Science Student Educational Enhancement Fund: https://give.ucdavis.edu/AFST/FSENHNC .

Food Science Showcase Schedule
All events will take place at the UC Davis Conference Center. Parking is available on campus for $9/day.
2:30 - 4:30 pm: Food Industry Fair

A networking event to bring together industry members, faculty, and current students. $50 tabling fee; free for attendees
4:00 - 5:30 pm: Research Poster Presentation

Learn about current research being conducted in the Department of Food Science and Technology at UC Davis. Free, no registration required

Northern California IFT Annual Meeting and Student Recognition Banquet
5:00 - 6:00 pm: Networking Reception
6:00 - 8:00 pm: Banquet Program

Please join us in recognizing this year's scholarship recipients with some amazing food and company! $75 per industry representative; $50 per faculty member and $25 per student. (https://registration.ucdavis.edu/Item/Details/518)
FEATURED SPEAKER:
Chris Davis, Ph.D., Research Fellow, Impossible Foods
Join NCIFT members, industry professionals, and UC Davis students and faculty for a night of food, learning, and student recognition. Student scholarship winners will be announced during a three-course meal, followed by a keynote address by featured speaker.
For questions, please contact Holly Ly bftvadvising@ucdavis.edu
Payment information:
We accept all major credit cards.
We are unable to process refunds.
Date of Event:
Mar 14, 2019
Location:
UC Davis Conference Center
Last day to register online:
Monday, March 11, 2019