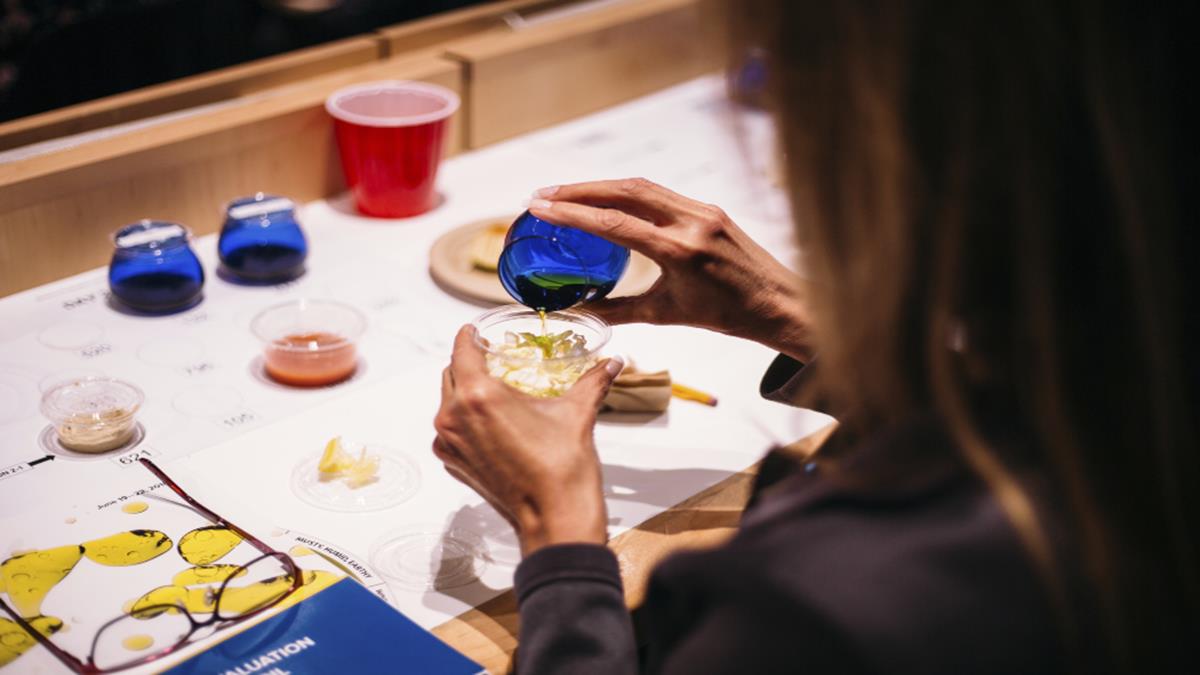 Sensory Evaluation of Olive Oil Certificate Course I June 11 and 12, 2019
UPDATE: The popular session "Will you taste my oil" is back!! Please email Shirley at spsli@ucdavis.edu for more details.
Designed for the beginning or experienced taster. Attendees receive a booklet with presentations, and a flash drive with presentations and supplemental materials.
• Evaluate more than 40 oils
• Review positive attributes and common defects
• Learn about the science of tasting from a sensory scientist with years of industry experience
• Understand strengths and weaknesses of standards
• Taste how harvest and processing variables affect sensory quality
• Taste olive oil and food pairing
• Participate in an exam to assess your progress
The course will be held in the beautiful Silverado Vineyard Sensory Theater at the Robert Mondavi Institute for Wine and Food Science. The course will include breakfast pastries and local coffee as well as lunch featuring seasonal ingredients.
Attendees rave about our prior sensory courses: "Passionate… knowledgeable…down to earth… hands on… great program…organized…outstanding… Sue Langstaff is excellent!"
Instructors
Sue Langstaff is panel leader for the Applied Sensory olive oil sensory panel, which is accredited by the American Oil Chemistry Society and International Olive Council. She is also the owner of Applied Sensory, LLC, which provides sensory consulting to the food, wine and beer industries. Sue is a judge at the Los Angeles International Olive Oil Competition and has been head judge at various international competitions. She is co-editor of the book Olive Oil Sensory Science (Wiley/ Blackwell, 2014) and is the creator of The Defects Wheel for Olive Oil. Sue was profiled in the bestseller Gulp: Adventures on the Alimentary Canal (W. W. Norton and Co., 2013) by Mary Roach.Sue has a M.S. from UC Davis where she studied Sensory Science, Enology and Brewing.
Lars Kronmark, a native of Denmark, is the senior chef-instructor at The Culinary Institute of America at Greystone. As part of the start-up "dream team," Kronmark was hand-picked from the finest culinary educators in the United States to open the school in May of 1995. Kronmark has been involved with the annual Worlds of Flavors International Conference and Festival since its conception in 1996, and has traveled to several countries including Mexico, Italy, France, and Spain as part of a partnership with the International Olive Council.
Selina Wang, PhD, is an extension specialist in the Department of Food Science and Technology and research director of the UC Davis Olive Center. Dr. Wang also is the leader of the UC Davis Olive Oil Laboratory, which provides research and analysis of olive oil and table olives. As research director, Dr. Wang has developed more than 60 research projects in table olives and olive oil. Dr. Wang is pursuing additional innovative research that seeks to deliver faster, better and cheaper methods for analyzing olive oil quality and authenticity.
Dan Flynn is executive director of the UC Davis Olive Center, which he has guided to international leadership in olive research and education. Dan also oversees the production of UC Davis Olive Oil and other olive products that help support the center. He served 16 years as a legislative and policy consultant in the California State Legislature and also managed a small farm prior to coming to UC Davis. He has a M.A. in Political Science from Rutgers University. Based on his achievements with the Olive Center, Dan has received top staff awards from the College of Agricultural and Environmental Sciences and the chancellor of the university.
Registration
Sensory Evaluation of Olive Oil I $549 (before May 15), $649 (after May 15)
Cancellations: 100% credit for future course if cancelled prior to April 10, 2019; 50% credit if cancelled prior to May 10, 2019; no credit after May 10, 2019.
IF YOU LIVE OUTSIDE THE USA: Please enter CA in the State Field. 95616 in the Zip Code Field and 555-555-5555 in the Telephone Field. You can enter your state/province, country, postal code and phone number in the supplemental fields provided. Once you submit the registration information you will be redirected to a secure credit card site where you will be able to enter your credit card information with the correct address.
Hotel Reservation
Hallmark Inn at UC Davis
Address: 110 F Street, Davis, CA 95616
Tel: +1 530 753 3600
Bookling link: https://www.myhotelreservation.net/b/hasmfinn/HASMFINN/?i=WHPROMO5A&rac=*NP05$
Hyatt Place UC Davis
173 Old Davis Road Extension
Davis, California, USA, 95616
Tel: +1 530 756 9500
Room block: https://www.hyatt.com/en-US/hotel/california/hyatt-place-uc-davis/smfzu?corp_id=G-U270
Cut-off date: May 13, 2019
Link:
Date of Event:
Jun 11, 2019
Time of Event:
8:00am-5:00pm
Location:
Silverado Vineyards Sensory Theater
Price Per Ticket:
$649.00
Last day to register online:
Friday, June 7, 2019
Robert Mondavi Institue Sensory Building