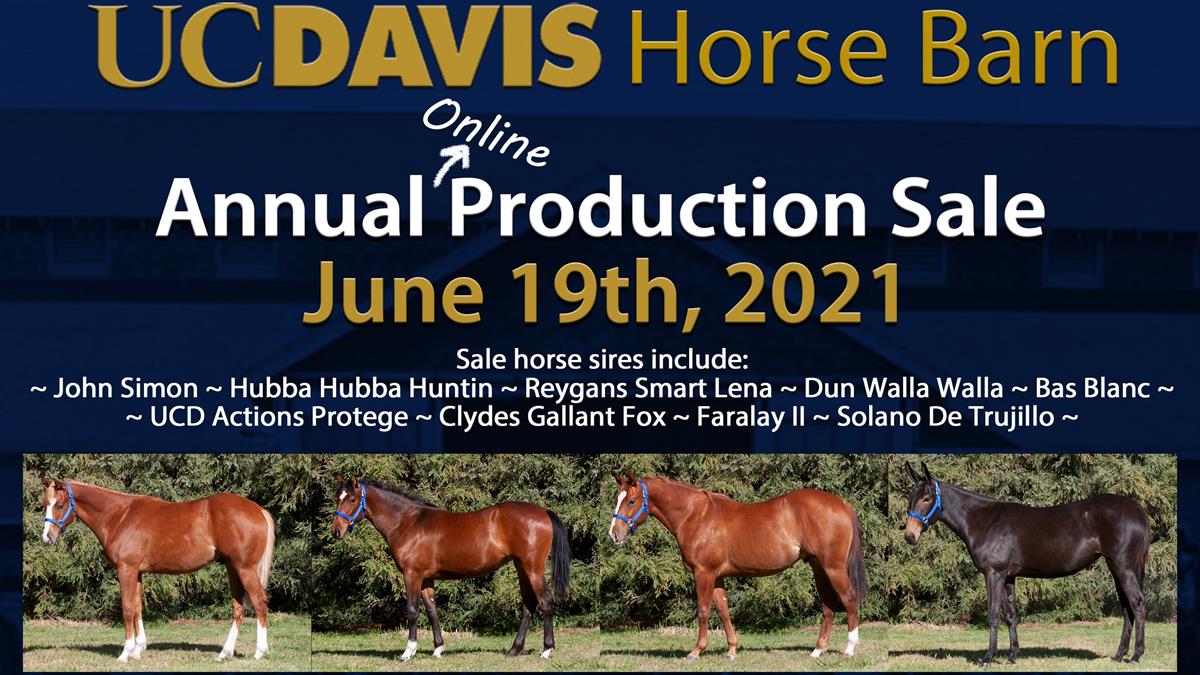 UC Davis Horse Barn Annual Production Sale
Thank you for registering for the 27th Annual UC Davis Horse Barn Production Sale on June 19th, 2021!
All bidders need to pre-register here prior to 12PM on June 19th. Any bidders attempting to register after 12PM on the 19th will not be guaranteed access to bid. Horse Barn staff will be processing registrants as soon as we can, but there may be some delay from the time of submitting this form to the time you receive your log-in email.
Once you submit the registration form, you will receive an email with information on how to log in and access the bidding features on our auction page. A link to the auction site where bidding will take place will be included in the registration email as well as on our Horse Barn website. The auction site will be available for preview and pre-bidding from Monday, June 14th and the event will close with a live-stream of our sale ring beginning at 5PM on June 19th.
Winning bidders will be contacted via the information provided in this form for payment and to schedule animal pick-up. Accurate contact information on this form is required. Please note that ShoWorks auctions utilizes a secondary-authentication system via text message, so it is important to include a valid mobile phone number when registering.
All purchases through this sale are bound to the terms and conditions outlined below, whether buyer has read them or not. All buyers should read outlined conditions below and be aware that all transactions in this sale are governed by these terms and conditions. The failure of any buyer to comply with the terms and conditions set forth here will constitute default by the buyer
1. AGE REQUIREMENT: Bidders must be over 18 years of age in order to register to bid and/or bid on any sale animal.
2. PAYMENT IN FULL: All sale animals must be paid for in full before they leave the premises. All sales are subject to State Sales Tax Laws. Invoices for any purchased animals will be emailed to the winning bidder. Payment will be accepted via credit card through the online payment system accessible through the invoice email prior to pick up of sale animal or via check made out to UC Regents at time of pick up.
3. NO WARRANTY: All sale animals are sold as is, where is, without guarantee of any kind. The descriptions of animals appearing in advertising prior to this auction are believed to be correct. Nevertheless, neither those descriptions nor any oral statements made by the owner (or owner's agents or officers), auctioneers (or auctioneer's agents or officers), concerning any animal shall be construed as a warranty, either express or implied. It is the buyer's responsibility to examine the animal and any available information on the animal prior to sale and thereby accept the way it is. A basic pre-purchase examination has been performed by UC Davis veterinary services and the report is available to view. Buyers have the right and are encouraged to arrange their own pre-purchase exam prior to sale. All supplemental exams, outside of the initial exam by UC Davis veterinarians, shall take place at buyer's expense.
4. BUYER'S RESPONSIBILITY: After a bidder has won the bid, they become the new owner of the animal(s) even if payment for the animal has not yet been made. The animal(s) becomes the full and sole responsibility of the buyer at this point and the buyer assumes all risk of loss or damage. The buyer further agrees to indemnify and hold UC Davis harmless from all loss, cost and expense arising from illness, injury or death of such animal, or loss or damage to property, and injury or death of persons, caused by the buyer, the buyer's agents or employees, or by the animal, subsequent to the time of purchase.
5. INJURY AND DAMAGE: Bidder acknowledges responsibility for any personal injury or property damage caused by the bidder or the bidder's agent, and further agrees to hold auctioneers and owners harmless from any personal injury to themselves or their agents and any property damage incurred on premises.
6. AGENTS ONLY: The auctioneers are acting as the owners agents only.
7. SALE ANIMAL PICK UP: All pick up of sale animals will be made by appointment only. Buyers must schedule animal pick up by contacting the UC Davis Horse Barn manager. Animals cannot be picked up until the sale invoice has been paid in full. Sale animals must be picked up within 72 hours of the close of the sale unless prior arrangements have been made with the barn manager. Animals remaining at the Horse Barn after 72 hours past the sale are subject to a daily boarding fee of $25/day until pick up. All sale animals will have a negative Equine Infectious Anemia (Coggin's) report issued within six-months of sale date. If a health certificate is required for animal travel, arrangements must be made with Barn Manager prior to pick up.
Link:
https://animalscience.ucdavis.edu/facilities/horsebarn/horsesales
Date of Event:
Jun 19, 2021
Time of Event:
Live-Stream Auction 5:00 PM
Contact Information:
Kelli Davis (Horse Barn Manager) kaddavis@ucdavis.edu
Price Per Bidder Registration:
$0.00
Last day to register online:
Saturday, June 19, 2021