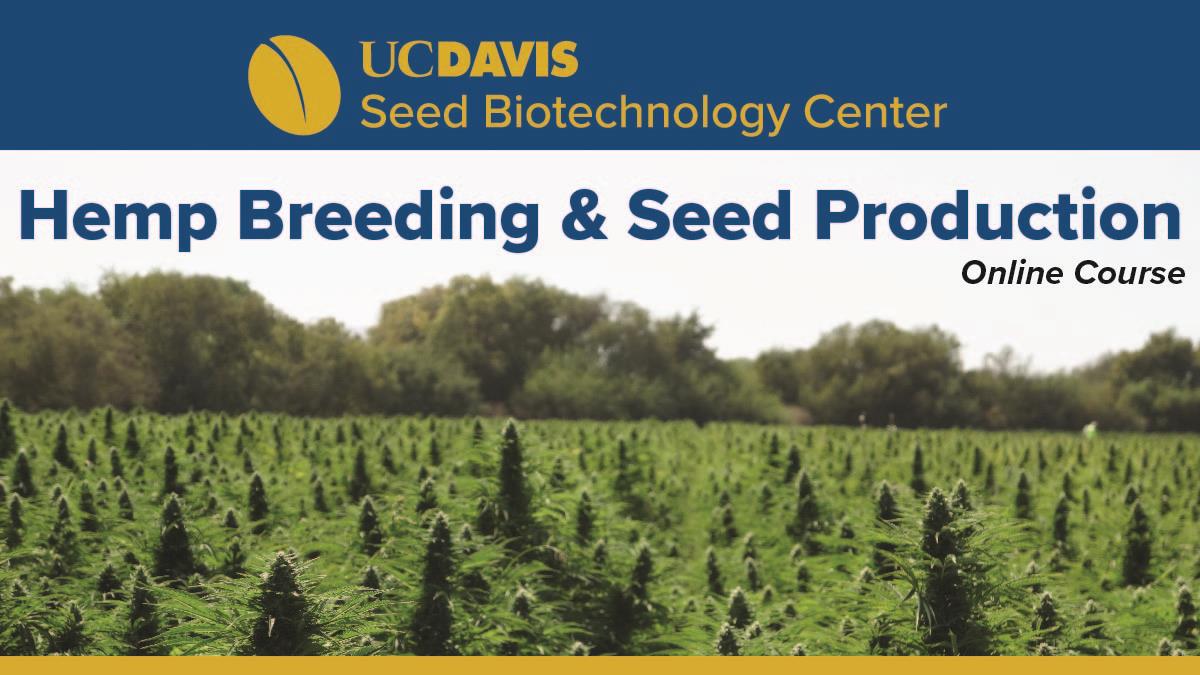 Hemp Breeding and Seed Production (Online)
November 2 - 4, 2021 (Online)
8:00 a.m. - 12:30 p.m. Pacific time zone
COURSE OVERVIEW:
Hemp Breeding and Seed Production is a 3 half-day online course designed to enhance the knowledge of professionals working on hemp improvement and propagation. The course covers hemp seed production topics such as flowering, pollination, seed development, harvesting and certification. Course participants will also learn about hemp genomics, genetics, sex expression, types of cultivars with corresponding breeding schemes and intellectual property protection options. The course will be delivered in an interactive format with lectures and discussions. The instructors include experts from the public and private sectors.
COURSE TOPICS:
Hemp reproductive biology
Genetics and genomics: Genetic diversity & Chemotypes, Chemistry
Types of cultivars and breeding schemes
Biology and physiology of seed development
Seed production flowering, pollination, seed development, harvesting
Seed Certification
Intellectual property protection
COURSE REGISTRATION PRICING:
Early Registration Price: $950 USD (SPECIAL OFFER: Early registration pricing has been extended to the course start date!)
Regular Registration Price: $1,050.00 USD
COURSE INSTRUCTORS:
Kent J. Bradford, Professor Emeritus, Department of Plant Sciences and the former Director of the Seed Biotechnology Center, University of California, Davis, CA, USA. His research focused on the development, maintenance, and expression of seed quality; plant water relations; developmental and growth regulation. He taught university and extension courses on plant physiology, seed biology, biotechnology, ethics and philosophy of science. Kent received B.S. and M.S. degrees in Biochemistry and Horticulture from Michigan State University and received his Ph.D. in Plant Physiology from UC Davis in 1981. He joined the UC Davis faculty in 1982 and retired as Distinguished Professor in 2019.
Charlie Brummer, Director, UC Davis Plant Breeding Center and Professor, Department of Plant Science. His research program focuses on developing cultivars and germplasm of alfalfa, spinach, and hemp. His research has focused primarily on investigating ways to improve yield and quality using traditional breeding and molecular markers. His current research projects include improving yield through the use of high density, genome-wide SNP markers to implement genomic selection.
Brian Campbell is the Plant Breeder for Charlotte's Web Inc., the market leader for high quality hemp-derived CBD extracts. At Charlotte's Web, Brian leads the Breeding Team, developing hemp varieties with improved agronomic characteristics and novel phytochemical profiles. He received his PhD from Colorado State University, where he focused on understanding the genetic architecture of quantitative traits and the degree to which phenotypes are affected by environmental factors in industrial hemp. He is passionate about performing applied research that contributes directly to the development of new and improved plant varieties. With a career in Cannabis that spans two decades, Brian has a unique understanding of the biological and genetic mechanisms of the plant, as well as years of practical experience in cultivation, feminized seed production, and breeding.
Rale Gjuric, Head of Canada Seed R&D with Farmer's Business Network. Previously, Founder and President of HAPLOTECH Inc.; Director of Education, Seed Biotechnology Center, and UC Davis Plant Breeding Academy; Breeding Manager of DL Seeds; Research and Managing Director of DSV Canada. Experienced Seed R&D Manager with focus on the seed supply chain; educator in the areas of Plant Breeding and Seed Production. An accomplished plant breeder who released numerous canola cultivars, recently led a team that released the first high CBD industrial hemp hybrid and the first grain hemp hybrid in Canada. Current focus is on canola, hemp, and corn product development for the Canadian market. Dr. Gjuric received his Ph.D. from the University of Manitoba, Canada.
Chris Holly is a partner at Cooley LLP and helps lead the Agricultural Science patent group, where his practice focuses upon helping clients in the synthetic biology, agriculture, microbiology, biotechnology, and food industries create and leverage robust IP portfolios. Chris has vast experience in helping disruptive startup companies in these sectors carve out valuable IP space, monetize such, and position themselves for acquisition, IPO, or successful commercial launch. Chris obtained a Ph.D. in Biological Sciences from Mississippi State University with research funded by the USDA and focused upon microbial and plant community dynamics in agricultural systems.
Daniel Knauss is a partner at Cooley LLP. His practice focuses on life sciences intellectual property litigation. He counsels clients regarding disputes in a wide variety of technologies areas, including cancer medicines, antiviral therapeutics, biofuels, agriculture, and medical devices. He has been to trial in federal courts, the Patent Trial and Appeal Board, and the International Trade Commission.
Alexander Mkandawire did his undergraduate studies in Agricultural Science at University of Malawi in southern Africa and then pursued graduate programs at Iowa State University (M.S. Agronomy: Crop Production and Physiology) and Michigan State University (Ph.D. Crop and Soil Science) in the 1980's. Hespent 12 years as an Assistant and Associate Professor of Crop Science at University of Malawi. He came back to the U.S. in 1999 as a Research Scholar in Plant Pathology Department at UC Davis where he was for 5 years. During that time,he studied the Genetic Diversity of Xathomonas campestrispv. phaseoli(Xcp/Xcpf) the pathogen that causes Common Bacterial Blight (CBB) disease on Common Beans using molecular techniques. He then worked briefly as a Researcher at Syngenta Seeds in WoodlandCAwhere he determined rates of infection of Watermelon seed lots by Bacterial Fruit Blotch (Acidovorax citrulli) under grow-out situation using Real-time PCR. He has been with California Crop Improvement Association (CCIA) located at the UC Davis campus for the past 14 years with major responsibilities for conducting field inspections oncertified seed fields ofsunflower, alfalfaandcotton in the past and now small acre crops, the group Hemp belongs to. He is also responsible for conducting Seed Sampler Training Workshops across the state with the Association of American Seed Control Officials' (AASCO's) oversight.
Zamir Punja completed a BSc degree in Plant Sciences at the University of BC, and MSc and PhD degrees in plant pathology from the University of California, Davis. He joined Campbell Soup Company and worked jointly with North Carolina State University, Raleigh on carrot diseases. He was Manager of plant biotechnology for Campbell's until 1989, when he left to join Simon Fraser University in Canada. Zamir's research investigates the causes and management of plant diseases on vegetable and horticultural crops, and cannabis, and include the applications of plant biotechnology for disease management. His previous work with greenhouse vegetables, ginseng, blueberry and wasabi have led to many research publications. His lab is currently developing methods for identifying and managing new and emerging diseases of cannabis. He is a Fellow of the Canadian Phytopathological Society and the recipient of numerous research and teaching awards. These include the Sterling Prize for Controversy for his work on genetically modified foods and the Synergy Award for university-industry collaborations.
Lawrence Smart, Professor of Horticulture, Cornell University, is a plant geneticist and breeder using genomic tools to select improved varieties of shrub willow for bioenergy and to better understand hybrid vigor, sex determination, and disease resistance. More recently, he has been leading Cornell's hemp research and extension team and has initiated a long-term breeding program to develop new hemp cultivars for New York State.
Nicholas Stromberg, Cannabis plant breeder and horticulturalist from Northern California, attended UC Davis receiving a Bachelor's degree in Environmental Horticulture and a Master's degree in Horticulture and Agronomy. He has been growing Cannabis since 2006 and breeding high CBD chemovars since 2012 under California's Proposition 215. In 2016 Stromberg began growing, selecting, and breeding at acreage scale under Oregonian hemp regulations. In 2019 Stromberg founded Beacon Hemp, an industrial hemp breeding and seed production company specializing in feminized seed, high and rare cannabinoids, day-neutral, and co-product cultivars. In addition to his work in industrial hemp, Stromberg also has worked as a collaborator with Steep Hill Labs in genomic analyses method development and as Director of Horticulture for several medical and recreational Cannabis companies, including CannaCraft and its affiliates.
John Yoder, Professor, Department of Plant Sciences, and his research team investigate molecular genetic mechanisms governing plant-plant interactions. They are specifically interested in understanding how molecules released by the roots of some plants effect the growth and development of nearby plants and intend to translate these findings into developing crops that are self- weeding. Probably the most robust model for investigating chemical signaling between plants are parasitic plants in the Orobanchaceae because their root parasites use molecules released into the rhizosphere by host roots as chemical cues to initiate the development of invasive haustoria.
---------------------------------------------------------------
REFUND POLICY FOR SBC COURSES AND EVENTS:
Cancellation requests received via email (in writing) 60+ days before course start date receive reimbursement of registration fees paid minus a $150 USD administrative fee.
No refunds are available for cancellation requests received 59 or fewer days before course start date.
Registration substitution or transfers are allowed 30+ days before course start date and must be approved by class administrator.
In the unlikely event that this program is canceled or postponed due to insufficient enrollments or any unforeseen circumstances (including COVID pandemic), the Seed Biotechnology Center will fully refund registration fees but cannot be held responsible for any other expenses, including cancellation or change charges assessed by airlines, hotels, travel agencies, or other organizations.
FAQ
- For questions about this course or registration, please contact Whitney Lowe at wlowe@ucdavis.edu
- If you encounter an error in the phone number field, try entering: 5304001234
- On the next (registration) page, it asks for two sets of contact info: If you are completing this registration for yourself, please enter your contact info twice.
Link:
Location:
Online via Zoom
Contact Information:
Whitney Lowe - wlowe@ucdavis.edu
Price Per Registration:
$950.00
Last day to register online:
Tuesday, November 2, 2021