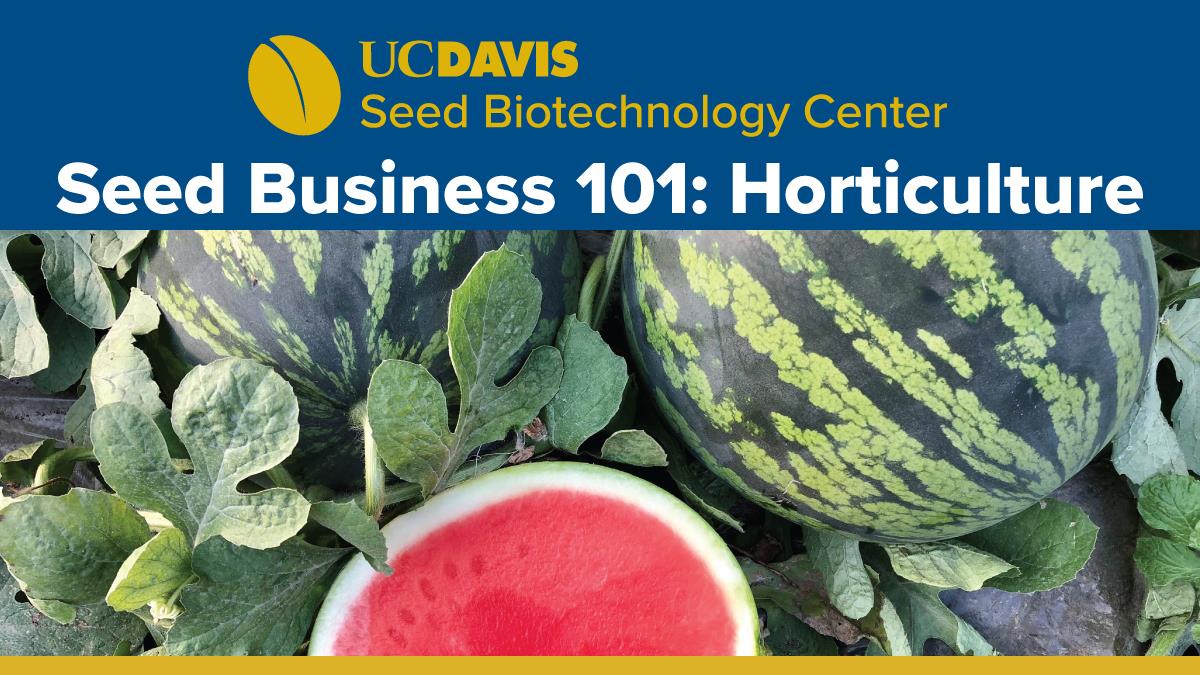 Seed Business 101 - Horticulture
If this course shows as "sold out" when you attempt to register, please contact wlowe@ucdavis.edu to be added to the waitlist for this course.
December 6-10, 2021 in Davis, California
8:00 AM - 5:30 PM (Pacific time zone)
COURSE OVERVIEW:
Attracting and retaining talented new employees is a critical challenge for the seed industry. The Seed Business 101 course was created, with input from industry executives, to accelerate the careers of promising new employees and young managers.
By selecting and sponsoring employees to attend this course, companies acknowledge past performance and invest in accelerated professional development.
The course also offers invaluable insights and perspective to seed dealers and companies offering products and services to the seed industry, including seed treatments, crop protection, seed enhancement and technology, machinery and equipment, etc. The instructors include experts from the public and private sectors.
This course is planned for in-person instruction but subject to change due to COVID-19, as we aim to keep our courses as safe as possible for students and instructors.
COURSE REGISTRATION PRICING:
Early Registration price: $3,150 (UPDATE: Early bird pricing has been extended through November 8, but space is limited!)
Regular Registration price: $3,500
Tuition includes all course materials, lunches, breaks and one evening programs. Register early; class size is limited.
INSTRUCTORS:
Mike Pereira, Principal Consultant, Granum Services, LLC
Mike has 39 years' experience in seeds, 32 years in vegetable seed production, and 7 years in biofuels seed production. Mike has extensive experience in leading global seed production organizations and establishing new production areas. In bio-fuels, he established the first hybrid seed system for Miscanthus, an ethanol feedstock, and directed hybrid seed production and plantation research of Jatropha, a diesel and jet fuel feedstock. Currently, Mike consults in vegetable seeds and alternative crops through his company, Granum Services, LLC.
David R. Armstrong, CEO, Sakata
Dave Armstrong is president and CEO of Sakata America Holding Company, Inc. and is responsible for all operations in Sakata Seed Corporation's subsidiaries within North and Central America, including research, seed production, marketing and distribution for vegetables and flowers. Over four decades in horticulture and agriculture, Armstrong has established and developed businesses with direct profit and loss accountability on three continents, from bases in Kuala Lumpur, Tokyo, Amsterdam and the San Francisco Bay Area, among others. Prior to joining Sakata, Armstrong held senior marketing and management positions with Syngenta.
John Schoenecker, HM.Clause, retired
John spent over 32 years in the vegetable seed business with stints in sales, product management, marketing, legal, regulatory and intellectual property for HM.CLAUSE and its legacy companies. John has been active in national and global aspects of the seed business serving as the ASTA (American Seed Trade Association) representative to the vegetable and ornamental section of the International Seed Federation (ISF) and with the board and as chair of ASTA. John represented ASTA and was involved with developing the AgAccord and testifying to the US Senate to encourage the US to join the International Treaty on Plant Genetic Resources (ITPGR).
Jovan Djordjevic, Director of Education, Seed Biotechnology Center, UC Davis
Jovan is a seed executive with over 25 years experience in the field crops and vegetable seed industries. His career began in France in 1996, as a corn breeder for Cargill Seeds (later Monsanto). Jovan continued in Canada as the Canola Breeding Lead for Monsanto, then in California as the R&D Team lead for Bayer/BASF. Throughout his prolific career, he has been a part of over 200 releases of hybrid varieties of corn, canola, tomato, pepper, sweet corn, watermelon, melon, cucumber, onions, carrots and leek. He is looking forward, together with the SBC team of instructors, to impart his experiences to future generations of plant breeders and other seed industry professionals.
---------------------------------------------------------------
COVID-19 POLICY FOR SBC IN-PERSON EVENTS:
This course is scheduled to take place in-person, but is subject to change based on the state of the pandemic at the time of this course. By registering online, participants are agreeing to abide by the UC Davis In-Person Activity Guidelines (URL below).
Requirements for course participants:
Proof of vaccination is required to attend (or negative COVID-19 test result within 72 hours is also acceptable)
Everyone must complete a Daily Symptom Survey online each day before entrance
Masks are required to be worn at all times in the classroom regardless of vaccination status
UC Davis In-Person Activity Guidelines: (this webpage is updated often by UC Davis so check back for updates, or any drastic changes will be communicated to registered participants by UC Davis staff)
https://campusready.ucdavis.edu/status/event-guidance
REFUND POLICY FOR SBC COURSES AND EVENTS:
Cancellation requests received via email (in writing) 60+ days before course start date receive reimbursement of registration fees paid minus a $150 USD administrative fee.
No refunds are available for cancellation requests received 59 or fewer days before course start date.
Registration substitution or transfers are allowed 30+ days before course start date and must be approved by class administrator.
In the unlikely event that this program is canceled or postponed due to insufficient enrollments or any unforeseen circumstances (including COVID pandemic), the Seed Biotechnology Center will fully refund registration fees but cannot be held responsible for any other expenses, including cancellation or change charges assessed by airlines, hotels, travel agencies, or other organizations.
FAQ
- For questions about this course or registration, please contact Whitney Lowe at wlowe@ucdavis.edu
- If you encounter an error in the phone number field, try entering: 5304001234
- On the next (registration) page, it asks for two sets of contact info: If you are completing this registration for yourself, please enter your contact info twice.
Link:
Contact Information:
Whitney Lowe - wlowe@ucdavis.edu
Price Per Course Registration:
$3,150.00
Last day to register online:
Wednesday, December 1, 2021