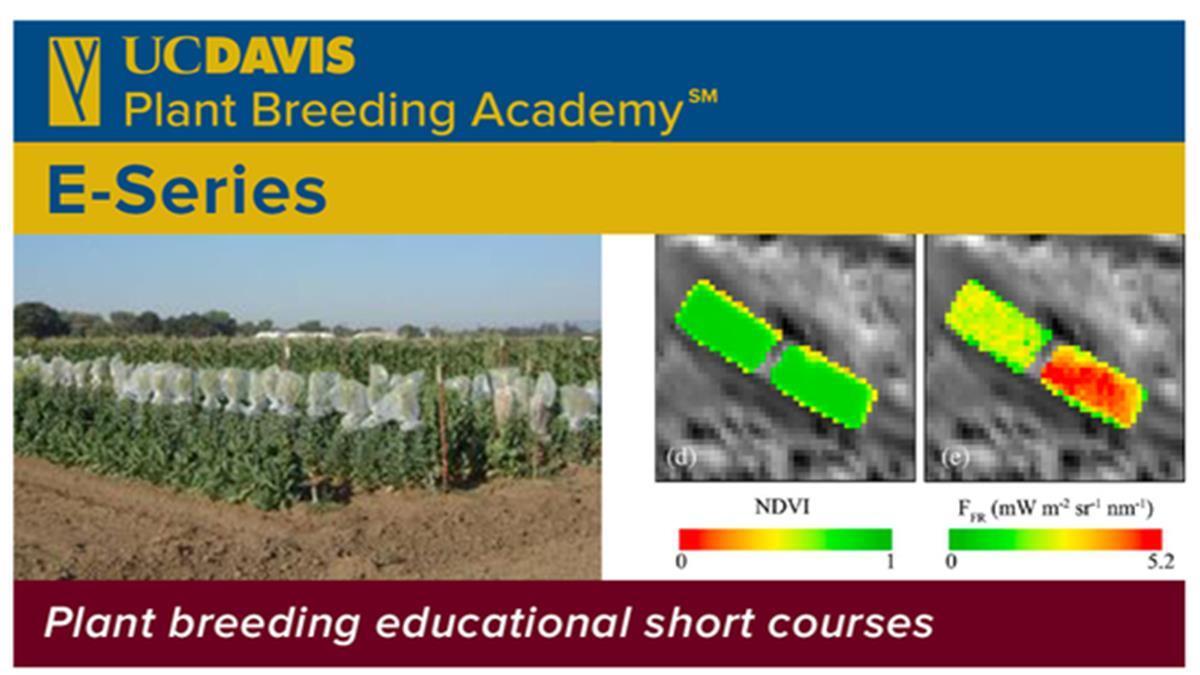 UC Davis Plant Breeding Academy: E-Series- Advanced Statistics & Experimental Design
February 1 & 3, 2022 (Online)
7:00 a.m. PST (4:00 p.m./16:00 CET)
E-SERIES COURSES:
The UC Davis Seed Biotechnology Center created the Plant Breeding Academy E-Series online courses as a response to a high demand for industry professional education courses even during the pandemic of 2020-2021. The first round of E-Series courses were such a success that we are now offering E-Series #1 and #2 in two new languages as well as an advanced offering of our statistics course.
These courses utilize an online format with the proven teaching models of the globally popular Plant Breeding Academy in-person courses, focusing on practical application and interaction with experienced instructors.
E-SERIES 3- ADVANCED STATISTICS & EXPERIMENTAL DESIGN:
Built on Foundation E-Series #1, this advanced level Stats/Exp design guides you through Multi-environmental trials, Augmented design and Genotype by environment interactions (GxE), all keys to successful Cultivar development.
COURSE REGISTRATION PRICING:
Early Registration price: $790 (Before January 28, 2022)
Regular Registration price: $900
INSTRUCTORS:
Alexandra Tomerius, Ph.D.
While earning her doctorate at the University of Hohenheim, Dr. Alexandra Tomerius worked in close cooperation with private industry plant breeding companies. She further devoted herself to the optimization of plant breeding as a post-graduate through early work as a research associate and later work as a freelance consultant. She was involved in projects related to the optimization of breeding winter wheat (Lochow-Petkus GmbH) and winter oil seed rape (DSV Deutsche Saatveredelung, Lippstadt). Since 2011, she has been and still is working for different private companies as plant breeding consultant as well as giving training courses to academia and private industry in various fields of plant breeding, with a focus on statistics, field trial design and breeding scheme optimization.
Jovan Djordjevic, Ph.D.
Jovan is a seed executive with over 25 years experience in the field crops and vegetable seed industries. His career began in France in 1996, as a corn breeder for Cargill Seeds (later Monsanto). Jovan continued in Canada as the Canola Breeding Lead for Monsanto, then in California as the R&D Team lead for Bayer/BASF. Throughout his prolific career, he has been a part of over 200 releases of hybrid varieties of corn, canola, tomato, pepper, sweet corn, watermelon, melon, cucumber, onions, carrots and leek. He is looking forward, together with the SBC team of instructors, to impart his experiences to future generations of plant breeders and other seed industry professionals.
-------------------------------------------------------------
REFUND POLICY FOR SBC COURSES AND EVENTS:
Cancellation requests received via email (in writing) 60+ days before course start date receive reimbursement of registration fees paid minus a $150 USD administrative fee.
No refunds are available for cancellation requests received 59 or fewer days before course start date.
Registration substitution or transfers are allowed 30+ days before course start date and must be approved by class administrator.
In the unlikely event that this program is canceled or postponed due to insufficient enrollments or any unforeseen circumstances (including COVID pandemic), the Seed Biotechnology Center will fully refund registration fees but cannot be held responsible for any other expenses, including cancellation or change charges assessed by airlines, hotels, travel agencies, or other organizations.
FAQ
- For questions about this course or registration, please contact Whitney Lowe at wlowe@ucdavis.edu
- If you encounter an error in the phone number field, try entering: 5304001234
- On the next (registration) page, it asks for two sets of contact info: If you are completing this registration for yourself, please enter your contact info twice.
Link:
https://sbc.ucdavis.edu/e-series-3-advanced-statistics-experimental-design
Contact Information:
Whitney Lowe - wlowe@ucdavis.edu
Price Per Course Registration:
$790.00
Last day to register online:
Monday, January 31, 2022