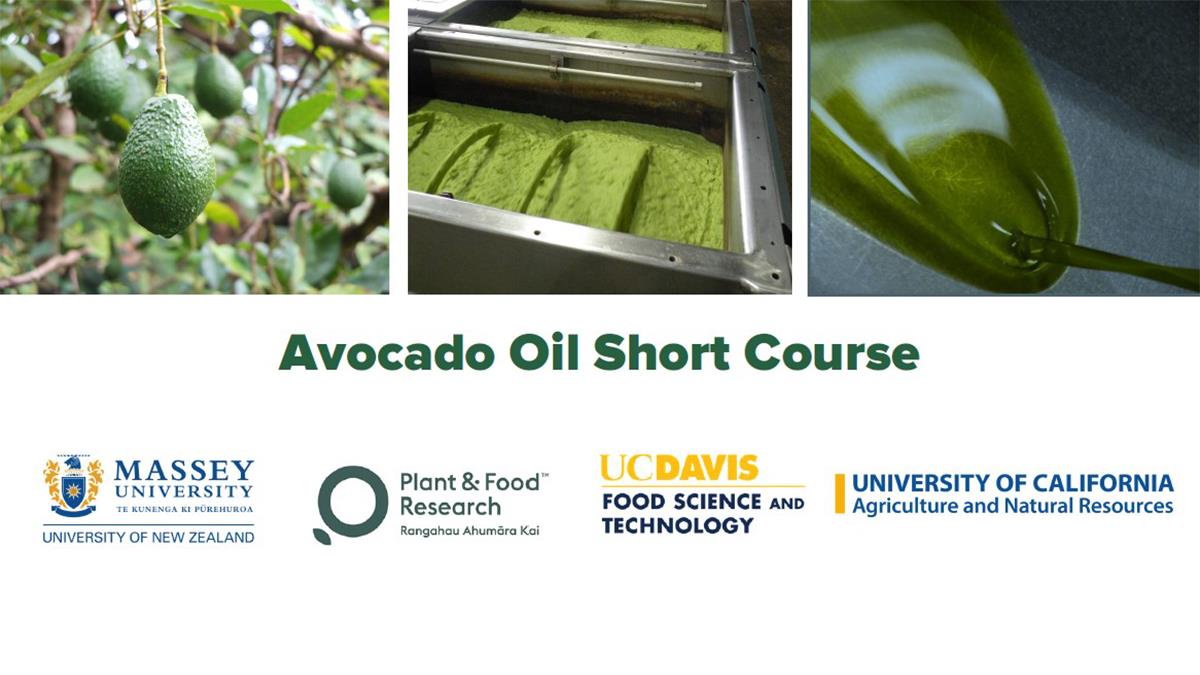 Avocado Oil Short Course
Avocado oil producers want to make sure their products are of excellent quality to deliver the best taste and health benefits to the consumers. Professional buyers, importers and distributors want to ensure the products they choose are not only of excellent quality, but made of pure avocado oil. In this online course, researchers and experts from University of California, Davis and New Zealand will help the participants gain understanding of factors that affect chemical parameters of avocado oil and develop skills to interpret the laboratory results so the producers, professional buyers and importers will be equipped to make the best post-harvest, processing and purchasing decisions for their companies.
WHAT'S INCLUDED
Six pre-recorded lectures (will be available after July 15th) and one live-Zoom Q&A with the instructors. The Zoom has a choice of three different dates/times in August. The six pre-recorded lectures should be viewed before the live Q&A. There is no expiration date set for the pre-recorded lectures; they can be viewed as many times as you wish.
August 4th, 2022 - 3:00 pm PDT (New Zealand date/time is Aug. 5th 10:00 am)
August 8th, 2022 - 2:00 pm PDT (New Zealand date/time is Aug. 9th 9:00 am)
August 9th, 2022 - 2:00 pm PDT (New Zealand date/time is Aug. 10th 9:00 am)
ENROLLMENT FEE
$650.00 USD per person through June 30th
$750.00 USD per person July 1 - August 1st
$300.00 off coupon for academia (e.g. university, research institute, government research center, etc.). Scholarships are also available on an as-need basis. Please contact Xueqi Li spsli@ucdavis.edu or Zann Gates zgates@ucdavis.edu for the discount coupon. Coupon expires August 1st. (Please be sure there are no spaces before or after the code when you enter it.)
Note: Income generated from this course will be used for research and future course development on avocado oil topics.
Please see the course page below for more details and the agenda.
REFUND POLICY
For cancellation requests received via email on or before July 28th, 2022: Reimbursement of registration fees paid less $50 USD administrative fee.
Registration substitution or transfers must be approved by class administrator and can be requested before July 28th, 2022.
For inquiries, contact Zann Gates at zgates@ucdavis.edu.
Link:
Location:
Online via Zoom
Contact Information:
zgates@ucdavis.edu
Price Per Registration:
$750.00
Last day to register online:
Monday, August 1, 2022