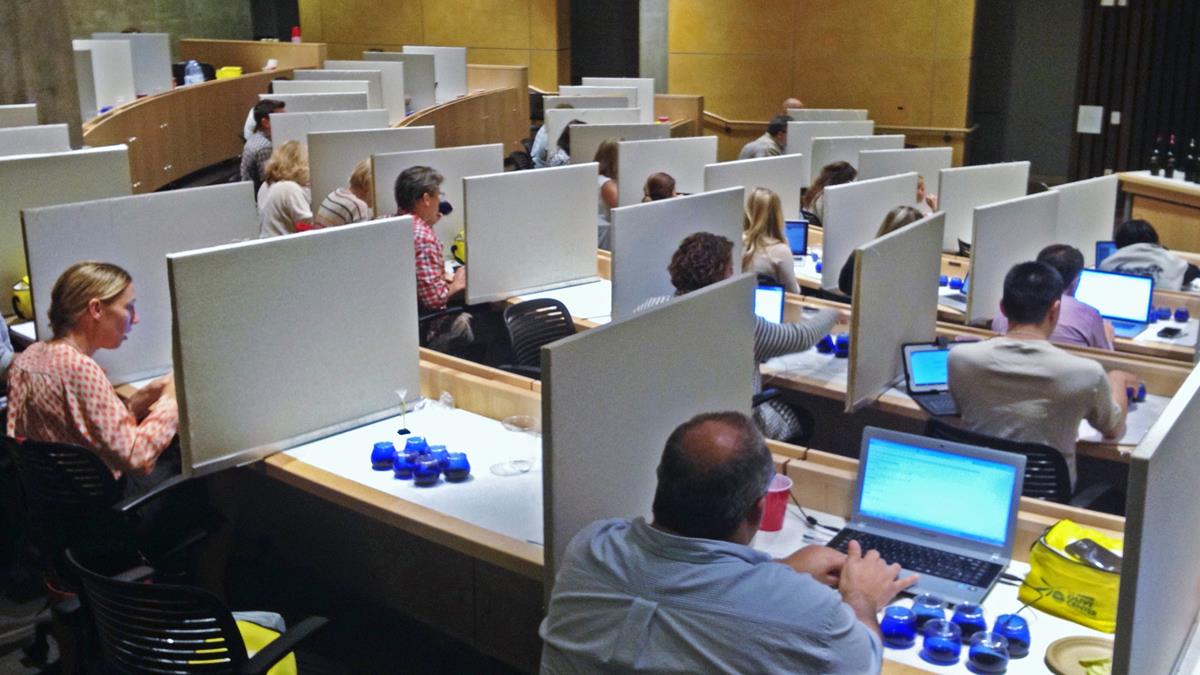 2022 Introduction to Sensory Evaluation of Olive Oil
DATE:
Friday & Saturday June 24-25, 2022
TIME:
8:30 AM – 4:00 PM. Lunch will be provided. More information on the schedule to be announced.
LOCATION:
UC DAVIS Olive Oil Center
Silverado Vineyards Sensory Theater
392 Old Davis Road, Davis CA 95616
CLASS PROGRAM:
• Official olive oil tasting technique
• Classic defects of olive oil — what can go wrong?
• Positive attributes of olive oil
• Exploring influences on olive oil character and quality
• Olive oil standards, labeling, chemistry and definitions
• Polyphenols — health and flavor
• Olive oil, health and nutrition — research overview and update
• In the kitchen and on the table — olive oil cooking and pairing
• Understanding olive oil competitions
• Evaluating flavored olive oils
• Olive oils of California, Spain, Italy and the World—and more!
PRESENTERS AND PANELISTS
Javier Fernandez- Salvador — UC Davis Olive Center Director Alexandra Kicenik Devarenne — International olive oil judge, consultant and writer
Dr. Agusti J. Romero — Researcher and leader of IRTA
Rachelle Bross, Ph.D. — Nutritional Core Director at Lundquist Institute for Biomadical Research, UCLA Clinical and Translational Research Center
Natalia Ruiz
Arden Kremer — Taste panel leader, California Olive Oil Council
Mark Duncan, Ph.D. – CEO & Founder of MassWerx and Adjunct Professor, Yale University
David Garci-Aguirre – Vice President of Operations and Master Miller at Corto Olive Co.
Johnny Madge — International olive oil judge
Glenn Weddell – Corporate chef, professional olive oil taster, panel member and judge
Samantha Dorsey – President of McEvoy Ranch
Greg Traynor – Owner and operator of the Mill at 43 Ranch
Roberta Klugman – Consultant, educator and strategist about food and wine
Jon Sciabica
PARKING
Visitor Parking Lot 2 | Gateway Structure
Friday 24th: Download ParkMobile app to conduct permit transactions from your phone. We advise you do this prior to arrival as the app requires a few steps to accept payment. All parking at UC Davis is now managed through the app and required.
Saturday 25th: Free
PRICE PER TICKET (lunch included):

EARLY BIRD REGISTRATION: $950.00 until May 27, 2022.
GENERAL REGISTRATION: $1150.00 until June 15, 2022.
INDUSTRY, MEDIA, EDUCATOR AND GROUP (for 3 or more registrations): $920.00. Please contact Adele Amico Roxas – adamicoroxas@ucdavis.edu, to get the discount coupon code
PREMIUM REGISTRATION: $1350.00 until June 15, 2022.
This year and for the first time, we are offering a Premium Registration Packet, for attendees that are planning on continuing their tasting journey.
For more information please contact
Adele Amico Roxas – adamicoroxas@ucdavis.edu
UC Davis Olive Center – ucdolivecenter@ucdavis.edu
LAST DAY TO REGISTER ONLINE:
Registration and payment is only available through the UC Davis registration site and will close on June 16th or when the capacity is met. No other forms of payment can be accepted.
This is our first class offering in two years and we are expecting registration to fill up quickly. Due to COVID, we will not be able to have additional spots beyond the allowed capacity, no exceptions.
The UC Davis Olive Center has created an olive oil educational series in a specific order for the participants to get the most out of it. Starting with the Sensory Evaluation, to deeply understand the final product being made, followed by the Growing course in which the participant can learn the tools to make the right decision before even planting any trees and finisching with the Master Milling for producers that have facilities to mill their own oil.
ACCOMODATIONS:
For our out-of-town visitors, multiple accommodations are available and some provide discounted UC Davis event rates.
Hyatt Place UC Davis
173 Old Davis Road Extension
Davis, California
530-756-9500
Book online and select "UC Davis" rate
https://www.hyatt.com/en-US/hotel/california/hyatt-place-uc-davis/smfzu?corp_id=01836
Hilton Garden Inn Davis Downtown
110 F St
Davis, California
530-753-3600 and mention "UC Davis rates"
Best Western Plus Palm Court Hotel
234 D Street
Davis, California
530-753-7100
Aggie Inn, Ascend Hotel Collection
245 First Street
Davis, California
530-756-0352
Best Western University Lodge
123 B Street
Davis, California
530-756-7890
CONTACT INFORMATION:
Email: for more information please email ucdolivecenter@ucdavis.edu
CANCELLATION POLICY
This class does not allow for refunds and will not be cancelled. In the event of a new COVID restriction or other unforeseen reason that may cancel in-person classes at UC Davis, we will ship samples to the registered participants and the class will be held in a live virtual format online via Zoom. NO REFUNDS WILL BE ISSUED.
Link:
Location:
UC Davis Olive Center at the Robert Mondavi Institute, Sensory Building
Contact Information:
ucdolivecenter@ucdavis.edu
Price Per Ticket:
$1,150.00
Last day to register online:
Friday, June 17, 2022