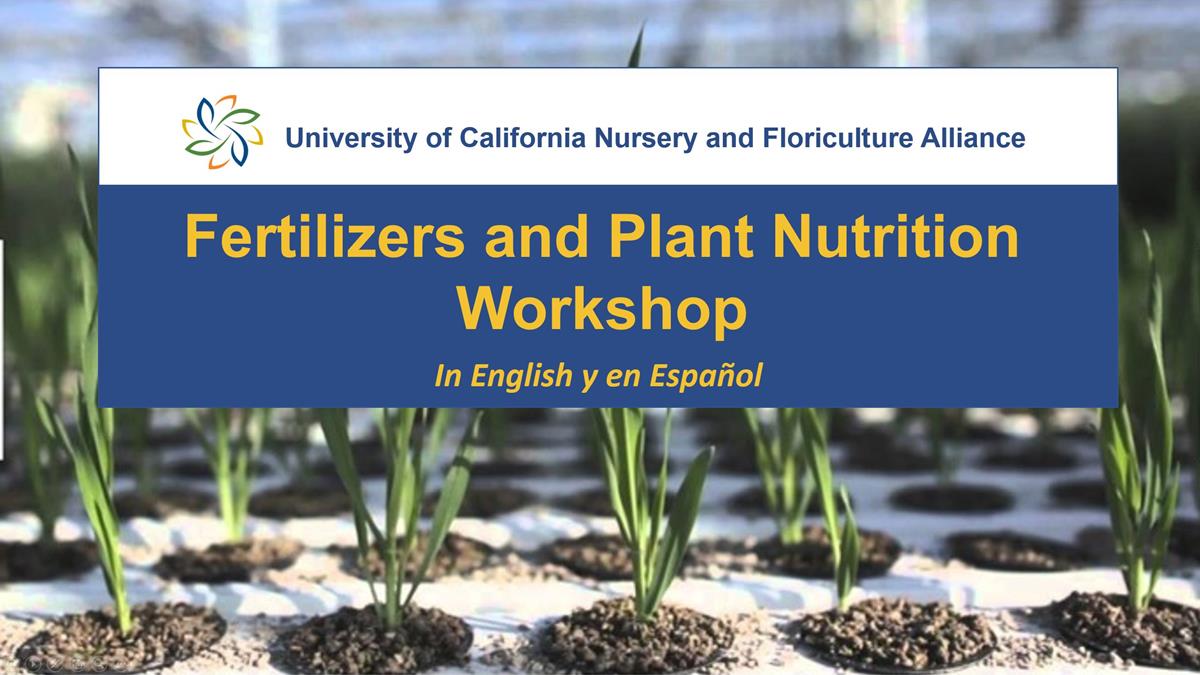 Fertilizers and Plant Nutrition Workshop, Salinas (English)
This workshop in English will present information for nursery and greenhouse growers, managers, and personnel on plant nutrition and fertilizer management with a focus on crops in containers. With demonstrations and hands-on activities. Topics discussed include:
• Plant nutrition - essential nutrients, nutrient uptake, nutrient allocation in plants, and nutrient disorder symptoms
• Fertilizer types
• Uses of fertilizers
• Developing fertilizer programs
• Monitoring fertilizer status
• Hands-on activities: using different methods and to measure pH and nitrogen in water samples (note: participants are encouraged to bring their own water samples to the workshop)
Date:
November 9, 2022
8:00 am to 5:00 pm
Check-in starts at 7:30 am
Location:
Monterey County Cooperative Extension conference room
1432 Abbott Street
Salinas, CA 93901
Registration:
$45 early registration before November 6 using the coupon code EZJYOBFDFO at registration.
$55 after November 6th.
Box lunch, morning and afternoon refreshments provided
Cancellation Policy:
If you cannot attend on the day of the workshop, you may request a refund. Refunds may take 30 days or more to post.
For questions please contact:
Loren Oki lroki@ucdavis.edu
Organized and Sponsored by:
University of California Nursery and Floriculture Alliance
This event is made possible by funding from the CDFA Fertilizer Research and Education Program and support from the Plant California Alliance
Link:
Date of Event:
Nov 09, 2022
Time of Event:
8:00 am - 5:00 pm
Location:
Cooperative Extension Monterey County 1432 Abbott Street Salinas, CA 93901
Contact Information:
Loren Oki - lroki@ucdavis.edu
Price Per Registration, English session:
$55.00
Last day to register online:
Wednesday, November 9, 2022
Monterey County Cooperative Extension
1432 Abbott Street Salinas, CA 93901