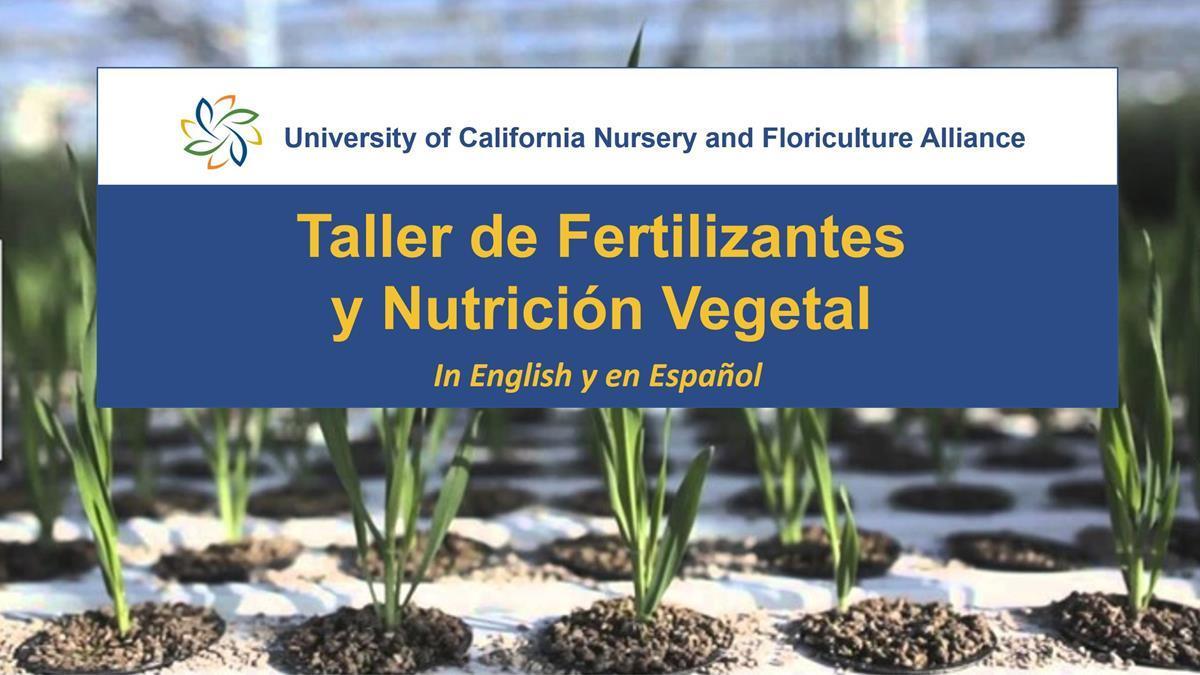 Taller de Fertilizantes y Nutrición Vegetal, Ventura (Español)
Este taller en español presentará información para productores, gerentes y personal de viveros e invernaderos sobre nutrición vegetal y manejo de fertilizantes con un enfoque en cultivos en contenedores. Con demostraciones y actividades prácticas. Los temas discutidos incluyen:
• Nutrición vegetal
• Tipos de fertilizantes
• Usos de fertilizantes
• Desarrollo de programas de fertilizantes
• Supervisión del estado de los fertilizantes
Fecha:
10 de Agosto de 2022
8:00 am a 5:00 pm
El check-in comienza a las 7:30 am
Ubicación:
UC Cooperative Extension Ventura County
669 County Square Dr. Suite 100
Ventura CA 93003
Registro:
$45 por registro anticipado antes del 7 de Agosto utilizando el código de cupón NXADZYPUZC en el registro.
$55 después del 7 de Agosto.
Box lunch, refrigerios por la mañana y por la tarde proporcionados
Política de cancelación:
Si no puede asistir el día del taller, puede solicitar un reembolso. Los reembolsos pueden tardar 30 días o más en publicarse.
Si tiene preguntas, comuníquese con:
Loren Oki lroki@ucdavis.edu
Jared Sisneroz jasisneroz@ucdavis.edu
Organizado y patrocinado por:
University of California Nursery and Floriculture Alliance
Este evento es posible gracias al financiamiento de la CDFA Fertilizer Research and Education Program y apoyo de la Plant California Alliance
Link:
Date of Event:
Aug 10, 2022
Time of Event:
8:00 a.m. to 5:00 p.m.
Location:
UC Cooperative Extension Ventura County, 669 County Square Dr. Suite 100, Ventura CA 93003
Contact Information:
Loren Oki - lroki@ucdavis.edu
Price Per Registro, sesion en espano:
$55.00
Last day to register online:
Wednesday, August 10, 2022
Center for Applied Horticultural Research
Center for Applied Horticultural Research Altmans Plants