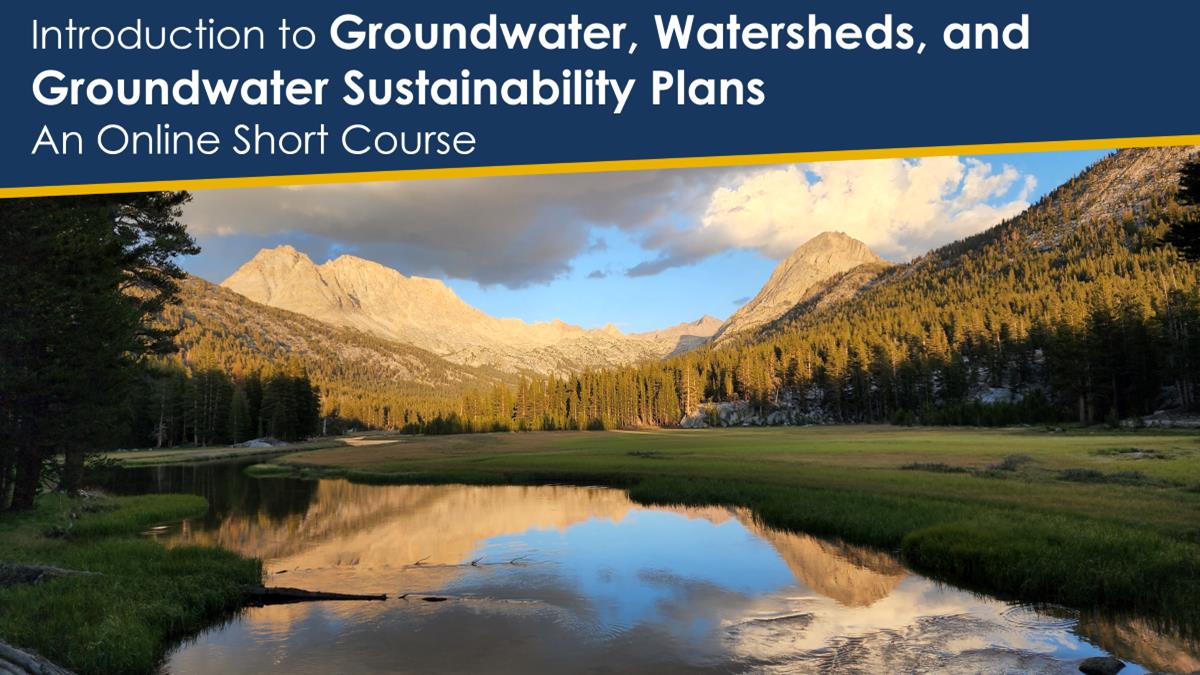 Introduction to Groundwater, Watersheds, and Groundwater Sustainability Plans 2023
Understanding groundwater and watersheds and how we monitor, assess, and sustainably manage these resources is critical and integral to California Groundwater Sustainability Plans (GSPs) and other water management programs. Private citizens, professionals, decision makers, executives, agency employees, and stakeholders with diverse backgrounds and in a wide variety of private, non-profit, and government responsibilities are increasingly engaged in the sustainable management and assessment of groundwater and surface water.
This online short course will review the fundamental principles of groundwater and watershed hydrology, water budgets, water quality, and water law and regulation in an intuitive, highly accessible fashion. Through real world examples, participants learn about the most common tools for measuring, monitoring, and assessing groundwater and surface water resources. We then review the key steps and elements of planning for groundwater sustainability. Case studies are used so participants learn about
development of conceptual models, water budgets, and GSP sustainability criteria;
understanding minimum thresholds and operating targets (measureable objectives) for GSPs and how to link those to monitoring networks;
methods for addressing climate variability and climate change;
recharge as a tool to enhance groundwater supplies;
evaluation of Groundwater Sustainability Plans by DWR;
local Groundwater Sustainability Agency governance; and
available online planning resources.
Who Should Attend?
The course is specifically geared towards an audience that is or will be involved in the management, assessment, and protection of groundwater and surface water resources under California's SGMA or similar programs. The course will also be useful for those who engage with, e.g., source water assessments, urban water management plans, and integrated regional water management plans. Course attendees, who may have some experience with but no formal training in hydrology or related engineering or science fields, will benefit from the basic and intuitive, yet comprehensive approach of this course.
Date:
Thursdays
April 13, 20; May 4, 18; June 1
9 a.m. - 12 p.m. PDT (GMT-0700)
Recordings of the lectures and Q&A sessions are made available to late registrants.
Location: This shortcourse will be provided online using Zoom. Participants will be sent instructions upon registration.
Course Materials Included: Presentation material will be sent via email. The course fee also includes the accompanying textbook, mailed via UPS to the attendee's physical address provided
Registration: $100/$60 (includes textbook)
Reduced fees ($60) are available to state agency employees, members of California Groundwater Sustainability Agencies (board, staff, advisory committees) and to participants of the GRASGMA Implementation Summit, June 7-8, 2023.
Scholarships are available for attendees in financial need.
Contact us for the reduced fee or scholarship coupon code before registering: GroundwaterUCD@gmail.com
Late Registration: You must register at least 24 hours before the course session starts to guarantee that meeting information is sent to you before the short course begins. If you register after April 11, 2023 but before the final registration deadline of September 30, 2023, recordings of the short course sessions you missed will be made available. No registrations are accepted after September 30, 2023.
If you live outside the USA: In the lower registration information section, please enter CA in the State Field. 95616 in the Zip Code Field and 555-555-5555 in the Telephone Field. You can enter your state/province, country, postal code and phone number in the supplemental fields provided in the top section. Once you submit the registration information, you will be redirected to a secure credit card site where you will be able to enter your credit card information with the correct address. Thank you.
Cancellation Policy: If you cannot attend on the day of the shortcourse, we make recordings available for you.
For questions please contact: Adele Nemer or Thomas Harter, GroundwaterUCD@gmail.com
Organized and Sponsored by:
Nora S. Gustavsson Endowed Professorship in Water Resources
University of California Cooperative Extension Groundwater Hydrology Program.
Link:
Contact Information:
Thomas Harter, GroundwaterUCD@gmail.com
Price Per Ticket:
$100.00
Last day to register online:
Friday, September 22, 2023