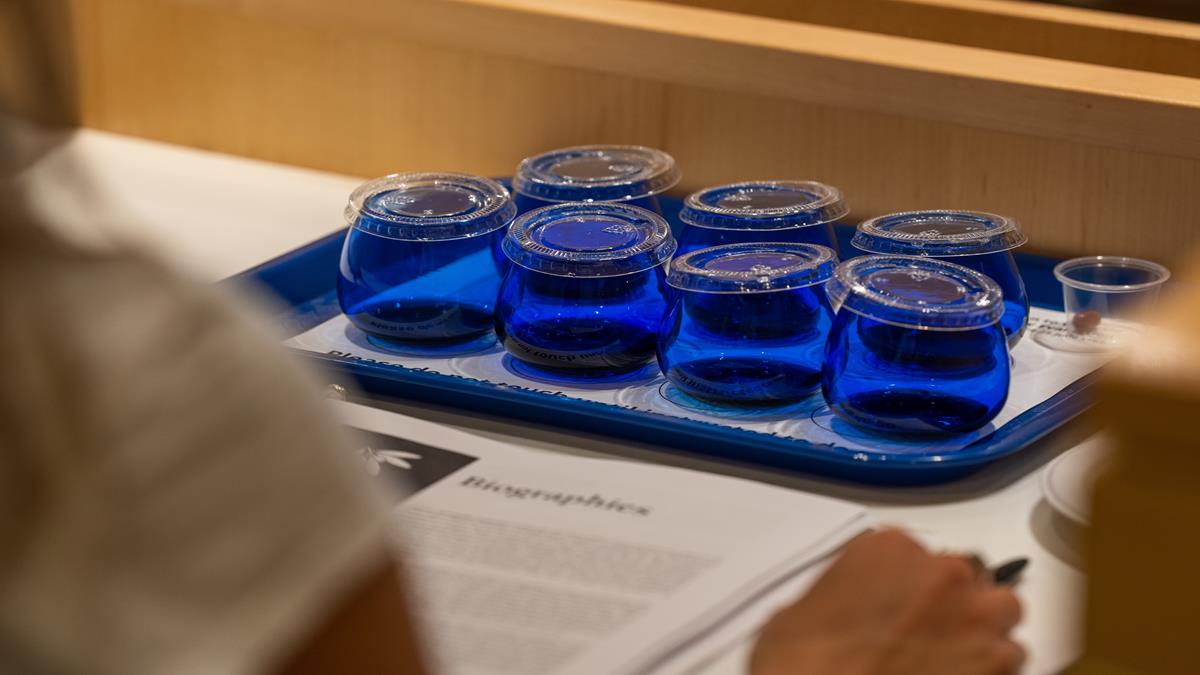 Advanced Sensory Evaluation of Olive Oils Class
This course builds on the foundation of the Introduction to Olive Oil Sensory Analysis class, going more deeply into the sensory attributes of olive oil and their causes. This course is designed for those with some experience in olive oil tasting who are looking to hone their skills and better understand the chemistry and other factors behind the product. Appropriate for current and prospective taste panel members, olive oil producers, buyers, culinary professionals and anyone wishing to improve their olive oil tasting ability.
The UC Davis Olive Center is honored to host the renowned Dr. Agustí Romero, Olive Team Leader from IRTA (Institute for Research and Technology in Food and Agriculture), Catalonia, Spain. His work focuses on virgin olive oil extraction and quality, olive growing and mill technology improvement programs. He has designed special training strategies for many tasting panels in several countries and he has been jury of several international olive oil competitions (Argentina, Australia, Berlin, London, Los Angeles, Madrid, New Zealand, Shanghai and Tokyo)
DATE: Friday & Saturday June 09-10, 2023
TIME: 8:30 AM – 5:00 PM. Breakfast, lunch and snacks will be provided. More information on the schedule to be announced.
Please contact Adele Amico Roxas (adamicoroxas@ucdavis.edu) to request an accommodation or for inquiries about accessibility, for any food allergy and dietary restrictions.
LOCATION:
UC DAVIS Olive Oil Center
Silverado Vineyards Sensory Theater
392 Old Davis Road, Davis CA 95616
CLASS PROGRAM:
• The official panel test method in the frame of the official regulations for olive oil quality and the meaning of each quality parameter
• Expanded set of quality parameters
• Review of recent consumer preference research
• Positive and negative attribute exercises
• Selection and training of a taste panel
• Expanded fruitiness descriptors
• Panel/taster calibration exercises
• Chemical basis for fruitiness and mouth perceptions
• Chemical basis for defects
• Origin of fruit-related defects (postharvest management)
• Major growing and milling factors that affect olive oil quality
• Understanding filtration
• Preservation of premium attributes (available technology and challenges)
PRESENTERS:
Dr. Agusti J. Romero — Researcher and leader of IRTA

Jean-Xavier Guinard, Ph.D - UC Davis Professor and Sensory Scientist

Alexandra Kicenik Devarenne — International olive oil judge, consultant and writer

PARKING:
Visitor Parking Lot 2 | Gateway Structure
Friday 09th: Download ParkMobile app to conduct permit transactions from your phone. We advise you do this prior to arrival as the app requires a few steps to accept payment.
All parking at UC Davis is now managed through the app and required.
Saturday 10th: Free
PRICE PER TICKET:

EARLY BIRD REGISTRATION: $950.00
until May 10, 2023

GENERAL REGISTRATION: $1050.00
LAST DAY TO REGISTER ONLINE:
Registration and payment is only available through the
UC Davis registration site and will close on May 31st or when the capacity is met

. No other forms of payment can be accepted.
ACCOMODATIONS:
For our out-of-town visitors, multiple accommodations are available, and some provide discounted UC Davis event rates.

Hyatt Place UC Davis
173 Old Davis Road Extension
Davis, California
530-756-9500
Book online and select "UC Davis" rate
https://www.hyatt.com/en-US/hotel/california/hyatt-place-uc-davis/smfzu?corp_id=01836
Hilton Garden Inn Davis Downtown
110 F St
Davis, California
530-753-3600 and mention "UC Davis rates"
Best Western Plus Palm Court Hotel
234 D Street
Davis, California
530-753-7100
Aggie Inn, Ascend Hotel Collection
245 First Street
Davis, California
530-756-0352
Best Western University Lodge
123 B Street
Davis, California
530-756-7890
CONTACT INFORMATION:
For more information, please email Adele Amico Roxas at adamicoroxas@ucdavis.edu
CANCELLATION POLICY
This class does not allow for refunds and will not be cancelled. In the event of a new COVID restriction or other unforeseen reason that may cancel in-person classes at UC Davis, we will ship samples to the registered participants and the class will be held in a live virtual format online via Zoom.
NO REFUNDS WILL BE ISSUED

.
Link:
Location:
UC Davis Olive Oil Center - Silverado Vineyards Sensory Theater 392 Old Davis Road, Davis CA 95616
Contact Information:
Adele Amico Roxas (adamicoroxas@ucdavis.edu)
Price Per Ticket:
$1,050.00
Last day to register online:
Wednesday, May 31, 2023